NVIDIA today announced the new RTX 4070 Ti, as well as the RTX 40 for laptops, as the entire industry expected after a whole battery of leaks that has taken place in recent weeks, but it has also been possible to see an interesting novelty for Geforce Now users, whichue is neither more nor less than a major hardware upgrade of the company's servers.
Specifically, the graphics cards found inside have been updated with the new RTX 4080 with the new SuperPOD, something that will allow access to a new Reflex mode that will allow us to play in the cloud at 240Hz with a latency of just 34ms.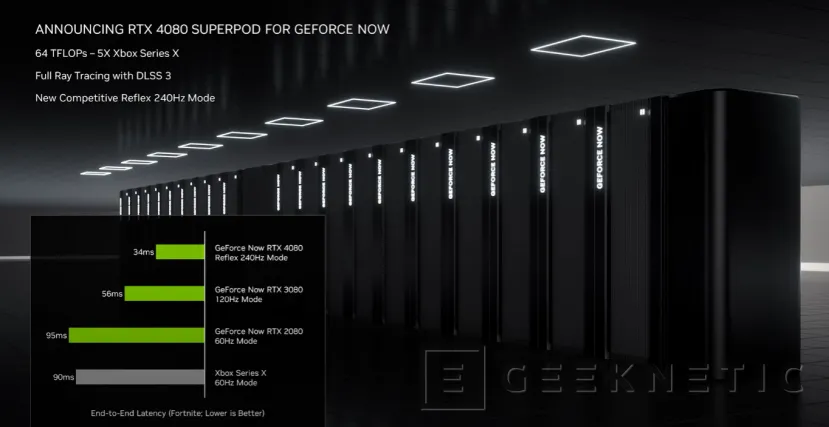 This will allow us to be competitive in competitive titles, and that is that, until now, it was common to find latencies between 50 and 100ms when playing on GeForce Now, something that, although it could be assumable, really put us at a disadvantage with local players. However, the new SuperPOD RTX 4080 will allow users to get rid of this handicap almost completely.
We say almost completely, since obviously there is still a small amount of latency, but in this case it stays at the aforementioned 34ms that will really allow us to be competitive in titles like Rainbox Six Siege or Counter Strikeat the same time that it is not required to have a Gaming team at home, or directly outside of it.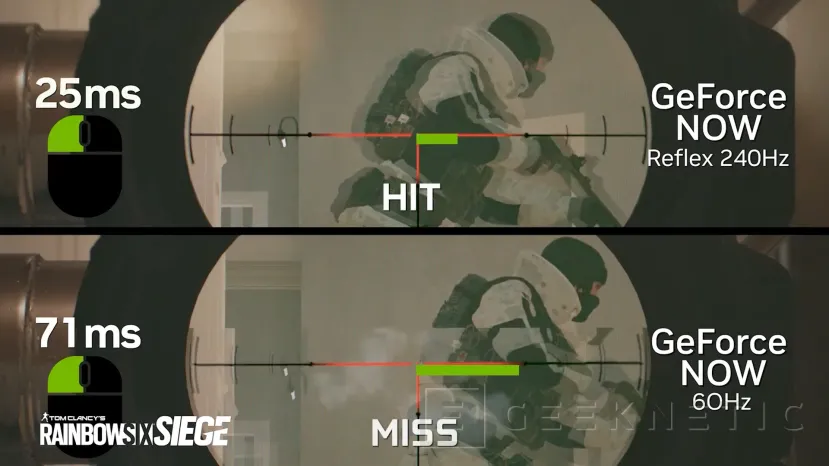 The performance that this update provides is equivalent to 5 times the performance of an Xbox Series X, in addition to being able to count on RayTracing and DLSS 3.0 to enjoy the latest titles of the moment with the highest possible quality, and all this will be possible for a price of $19.99 per month, the same as up to now, since these new GPUs come accompanied by a new membership.
This membership will be called Ultimate, and it replaces the "RTX 3080 Members" membership.which ensured us access to an RTX 3080. On this occasion, access to the new cards is ensured, the price is maintained, and for those users who were already members of the highest level, the improvement will be automatic from this first quarter of 2023.
This is a very interesting improvement to the service that will probably increase its market share, Well, unlike others like Stadia, that we remember, it will disappear this month, provides a much more than satisfactory experience.
With this new plan, the bar is raised for others like Xbox Cloud Gaming to do the same, possibly acquiring new hardware from companies like NVIDIA, to provide its own users with a better experience. This is still conjecture, but these kinds of advances are always beneficial to consumers, especially by keeping the price while increasing performance.
End of Article. Tell us something in the Comments!