Free time does not mean vacation for everyone. Some speak the language of rest far from the environment of their professional activity and that is the case of Brandon Villegas «Josedeodo«. The popular Argentine player turned his vacation into a preparation camp on the South Korean server. The League of Legends he did not move away from Josedeodowho with just over 250 games managed to reach challenger in the Korean SoloQ. josedodo managed to climb to the top division of the powerful Korean server, proving that it is in a great level to face the challenge of competing again in Latin America.
After a year of ups and downs in the LCS with FlyQuest, Josedeodo looked for luck in a new project. That is why at the end of November the Argentine player decided to return to compete in the LLA together with Estral Esports. The Mexican organization laid out the red carpet for the Argentine star and after this announcement, he left for South Korea to hold a boot camp. After just over a month, Josedeodo managed to reach Challenger in the Korean SoloQcalming down the criticism of his level a bit after he returned to compete in Latin America.
Josedeodo shines in the Solo Queue of Korea
Korean servers are not an easy thing and even so Josedeodo achieves his goal. The 'Tuki' fulfilled his goal of reaching challenger in Korea, the server that contains the current world champions. Measuring himself against the best in Korea, Josedeodo accumulated close to 900 LPs in order to be crowned with the challenger plate. The Argentine player had a winning percentage close to 65%standing out in the jungle with flagship choices from his repertoire such as Read without Y viego.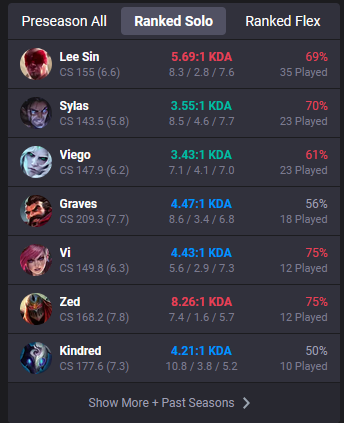 In addition to these champions, Josedeodo was exploring the multiple viable options of the preseason. The sylas Y Zed jungle were two additions to his champion pool, racking up with a 70% Y 75% of victories in both, respectively. The Latin American star seems to be ready for action and the new challenge in his career, which will be to compete again in the LLA. Together with big names in Estral Esports, Josedeodo will seek to win the league and thus shine again on international stages. The players that will accompany 'Tuki' in this 2023 will be the following:
Emmanuel Juarez «access«
Brandon Villegas «Josedeodo«
Ji Cha Hyeun-min"takeover«
Lee Jae-hoon"samd«
Facundo Neck «Shadow«
Yang Gwang-pyo"Yang» (Coach)