AMD unveiled today at its appearance at CES 2023 the new RDNA 3 GPUs for laptopssomething that NVIDIA has also done for its part with the RTX 40 Series for laptops, which recover the Max-Q nomenclature, but do not seem to do so directly for its public name.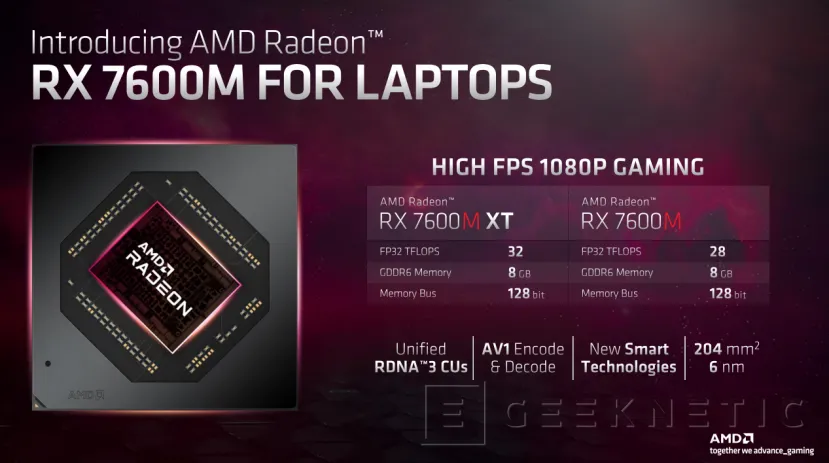 These GPUs, on the other hand, come with two different nomenclatures, and it is that we find on the one hand the RX 7600M and 7600M XT, as well as the RX 7700S and RX 7600Smodels with a lower TDP that we find in smaller computers, such as ultrabooks.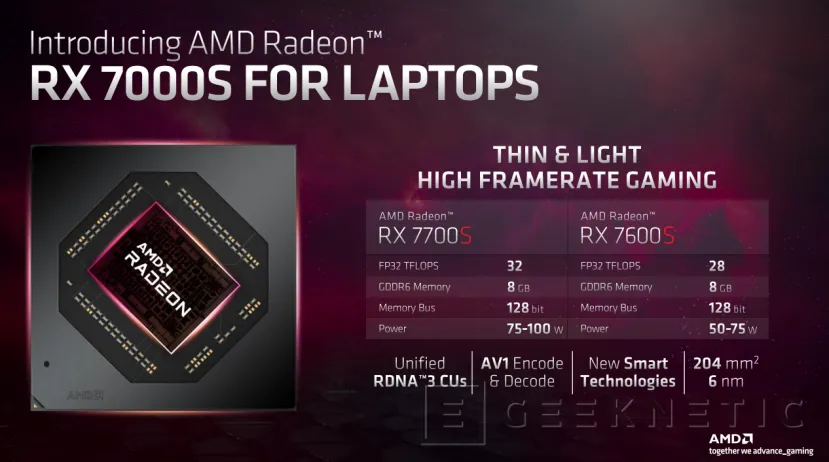 In any case, this is not indicated, but it is made clear that these GPUs are specific for laptops, allowing us to identify them with the naked eye for their differentiation in a data sheet.
RDNA 3 for laptops
AMD has released RDNA 3 for laptops with specific optimizations, and that is that, on a laptop, one of the most important things we want to have is maximum power control to maximize range as much as possible.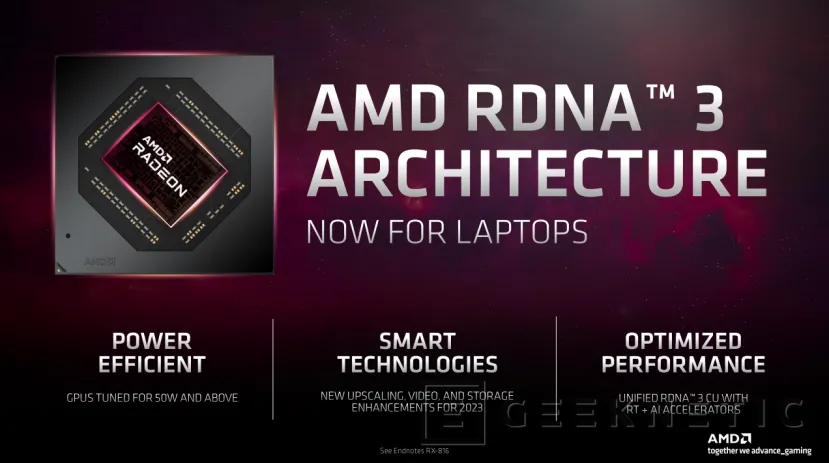 That is why, in any case, both the minimum power and the maximum power have been taken care of, marking a minimum of 50W, and a maximum of 120W for the most powerful model of all, the RX 7600M XT.
Among the technologies that we find in these GPUs, we find the usual ones in this generation of AMD GPUs, but it also adds greater energy efficiency, something common in all mobile architectures focused on efficiency, especially in the S range of these GPUs, as well as SmartTechnologies.
AMD Smart Technology
AMD has extended what was already known as Smart Technology, and it is that AMD SmartAccess will sound like a long time ago, the implementation of the set of technologies based on this name, such as the Smart Access Memorywhich would be AMD's implementation of the Resizable BAR, as well as the Smart Access Storage, AMD's implementation of the Microsoft DirectStorage API.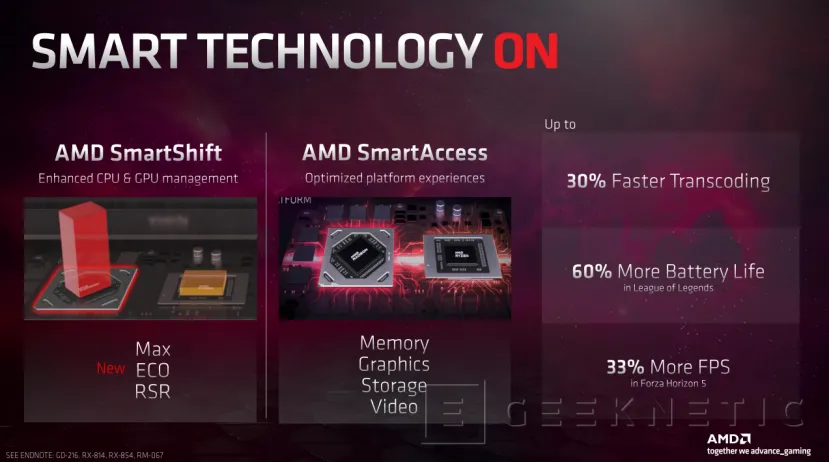 Now we also find AMD SmartShift, a technology we already knew, but that adds a new ECO mode to obtain up to 60% more battery autonomyin this case taken as a reference playing League of Legends, but also with up to 33% more performance compared to the previous generation.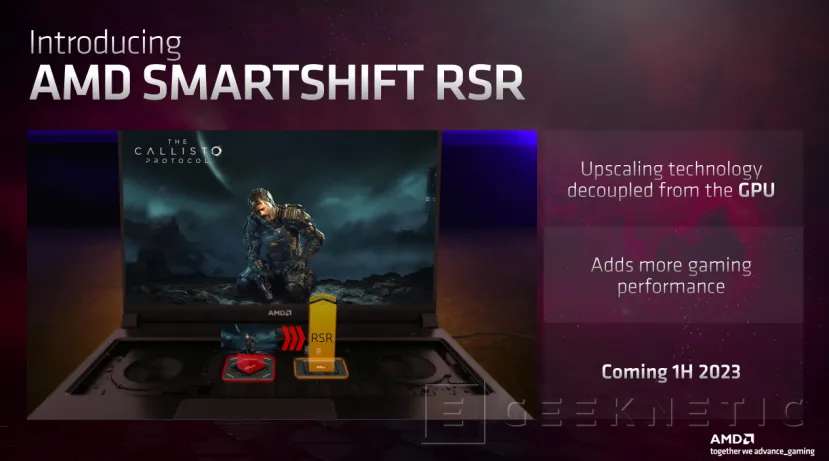 AMD SmartShift RSR also comes as a novelty, and it is that although it seems counterintuitive, decouples Radeon SuperResolution upscaling technology from the GPU to shift this load to the CPU, something that in principle improves performance in games. This can vary depending on the title, especially in the case of games with higher CPU dependency, but it will arrive during the first half of 2023.
New AMD RDNA 3 and RDNA 2 GPUs
As we have mentioned before, AMD has released four new RDNA 3 GPUs, GPUs that arrive with two different nomenclatures depending on the type of equipment they are focused on.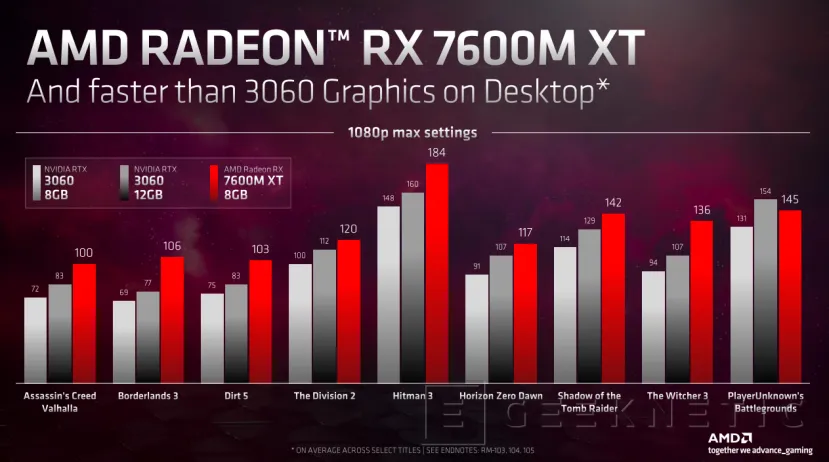 On the one hand, we have RX 7600M XT and RX 7600Mtwo GPUs focused on portable Gaming, while, on the other, we have the RX 7600S and RX 7700S, models focused on ultraportable equipment.
AMD RX 7600M XT

AMD RX7600M

AMD RX7700S

AMD RX7600S

AMD RX 6550M

AMD RX 6450M

AMD RX 6550S

TDP

75-120W

50-90W

75-100W

50-75W

50-80W

25-50W

35-50W

Architecture

RDNA 3

RDNA 2

UCs

32

28

32

28

16

12

16

Shader Cores

2048

1792

2048

1792

1024

768

1024

GDDR6 memory

8GB

4GB

memory speed

18Gbps

16Gbps

18Gbps

16Gbps

18Gbps

16Gbps

16Gbps

memory interface

128 bit

64 bit

Infinity Cache

32MB

16MB
We can also observe three new RDNA 2 models, and in general, we can see a marked difference in the specifications common to all models within its generation, what would be the amount of Infinity Cache, which doubles in the case of RDNA 3 GPUs, as well as the memory interface, which also gives way to twice the memory.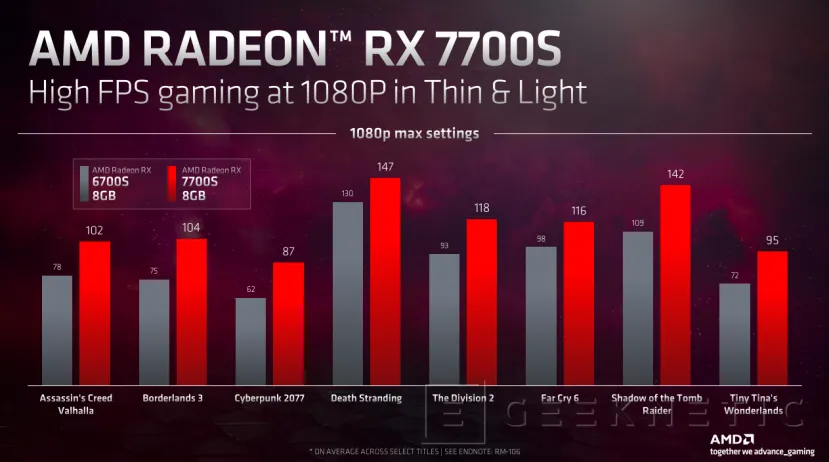 We can also see the dent made by the great efficiency of the new GPUs at 6 nanometers, Well, we can maintain the 50W TDP on an RDNA 3 GPU with almost twice as many cores as an RDNA 2 model, Although it is something that, although we will perhaps pay independently, it will also mean savings in the pocket of the end user.
In any case, although the models of the 7000 range are focused on higher performance equipment, due to the nomenclature itself We see how the GPUs of the 6000 range arrive as an update to the existing low-end of AMD mobile GPUs.
End of Article. Tell us something in the Comments!