Why would we need a vomiting baby in Minecraft?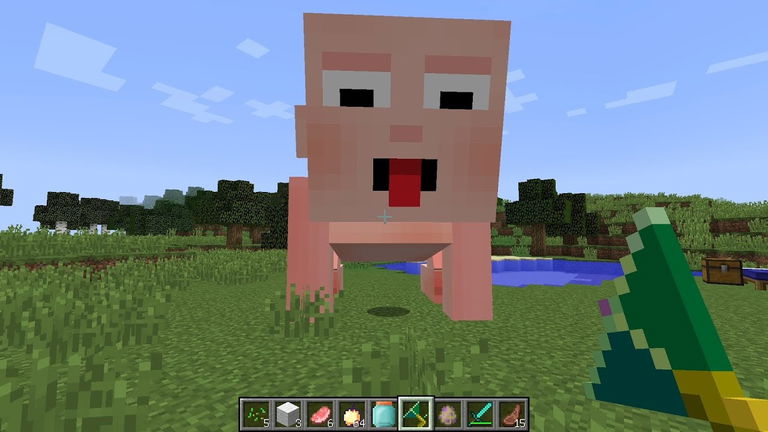 Despite the fact that it seems obvious that Minecraft characters and NPCs infants could come to cry, dirty diapers and turn the games into a kindergarten, apparently Mojang never contemplated the idea of ​​​​including them.
In this sense, it would be very curious to see them crawl through different biomes and save them from the wild creatures that would surely attack them. Or, for example, take care that they do not go through gloomy environments on their own that even an experienced player would have fear of being the victim of a mob.
But, to no one's surprise, there were a few players who entertained the idea and made it a reality in the form of a mod. This, of course, is one of the most popular practices among simulators like Minecraft, since they give fans the opportunity to assign a different gameplay to the original. Although, in terms of the value of the sandbox gameplay mechanics, The possibilities are almost endlessso it has stood the test of time and millions of gamers of all stripes have enjoyed this once indie title to the fullest.
Although the game came out in 2011, or in 2009 for those who have the alpha version, Minecraft players keep discovering new things. But even without the discoveries and vast landscape teeming with possibilities for exploration, it's the powerful building mechanics that keep fans coming back again and again. There are endless ways to get creative in the game, so it's no wonder it's still going strong after all these years. But things do not end here, since it is also possible to create mods that further improve the experience.
Take the latest video from YouTuber Fundy as an example. The popular Minecraft content creator shows once again the many ways the game can be played outside of the official version of it. In this case, has created a baby out of blocksBut it's not just any baby. He walks and cries like a real one, but he's also programmed to vomit uncontrollably, float in midair, turn his head 360 degrees, and other damn things. Things get even more chaotic when Fundy asks his friends to "watch" the boy, leading to a series of comic mishaps worthy of a cheap comedy. It's fun, but it also shows the creativity of the YouTuber.
Anyone familiar with Fundy will already know about its modding capabilities. They've managed to do all sorts of cool stuff, like create a pac-man game horror-themed games inside Minecraft, make a giant version of Tetris, and other awesome custom creations.
With its literal deconstruction of open worlds, not to mention its unmistakable visuals, Minecraft is a force to be reckoned with in the AAA gaming landscape. The game, which began as a small project developed by a single personhas grown to become an industry juggernaut and is considered one of the most successful games in history, largely due to the limitless creativity it allows.