Many years have passed since Minecraft beast came out and became popular. Well, when still the world of YouTubers I was in diapers was when many of us discovered this gem. Thanks to those gameplays from 2012, the game went viral and today it is even more famous if possible. So much so that its community is huge and you continue to see very crazy things that its own players do.
And by "crazy stuff" I mean everything you can imagine: play Super Mario Bros. in-game, a version of it for gameboy, and real engineering feats they do within the title that make me wonder why these people aren't aerospace engineers or something.
The most that I managed to do in its day was a cathedral a little meh and with the help of some friends. But today we are not talking about creations of Minecraft, but of another type of thing that I also like a lot: the different forms of play the title leaving conventional methods aside. And no, I do not bring you how to play Minecraft with a mod of DOOM original (or vice versa).
Play Minecraft on a 1986 monitor
I bring you something that a user of Reddit has shared on the social network and that has freaked out all the fans of Minecraft who have seen the post:
Basically, played minecraft on a monitor 1986 ❗️
Of course, the computer you use is a current one, the only thing that is outdated is the screen 🖥
It's amazing though see what works since there would be many possibilities that they were not compatible ❌
The screen is one of these in black and white that has a greenish tone, similar to that of the Game Boy, so take a look at how it looks: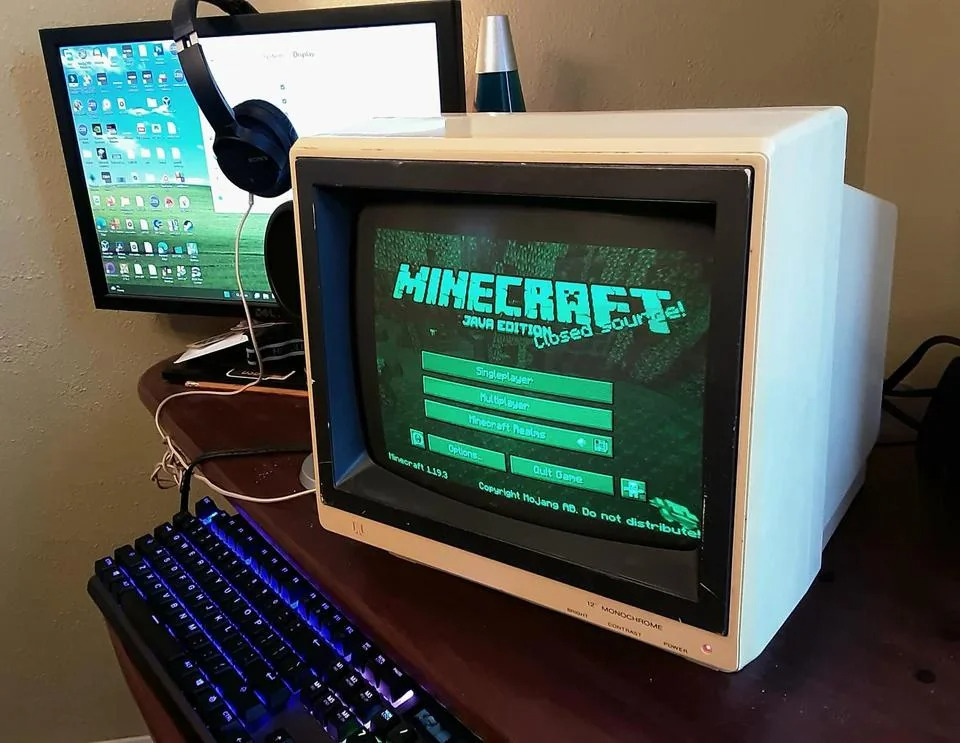 What do you think of how it looks? Undoubtedly, It's surprising to see that greenish tone in Minecraft, but we must admit that it has its charm, especially if you are fans of old technology such as this monitor that is close to turning 40 years old.