The success of among us It is no longer a surprise to anyone, although when the phenomenon exploded it did caught us off guard: It was a very small game that had been on the market for some time and, right off the bat, it has become one of the most recognizable titles inside and outside the video game industry. That is why we are not surprised to see how since then they have proliferated very similar projects which have also gained popularity. One of them is Goose Goose Ducka game available on PC, iOS and Android for quite some time but it has not been until now when has begun to reap success.
Goose Goose Ducka title very similar to Among Us, carries available on Steam from October 2021 (a few months before it had come out on mobile devices). However, on websites like SteamDB we can see that the number of simultaneous players has grown exorbitantly in recent months: in November 2022 it went from having 5,000 to 15,000 people connected at the same time, something that multiplied each time. more until reaching an astonishing record of 702,845 simultaneous players just five days ago. It is currently one of the most played games on Steam, surpassing other heavyweights such as Apex Legends, PUBG: Battlegrounds either GTA V.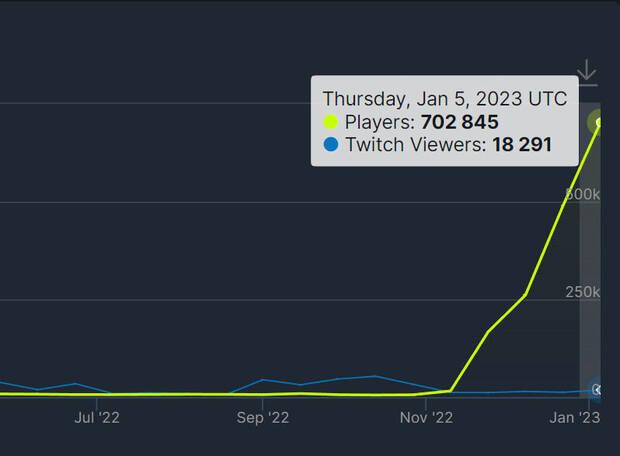 success on Steam thanks to the streamers from Twitch
As is often the case in these cases, success on Steam was preceded by a surge in audiences on Twitch: in October, before multiplying its number of players on PC, Goose Goose Duck exceeded 50,000 viewers in live broadcasts on Twitch. In one year, it has played more than 10 million hours on the Amazon platform, according to figures collected by SullyGnome, and its average number of viewers exceeds 1000 people.
playable, Goose Goose Duck is a carbon copy of among us but changing astronauts for ducks: It is a multiplayer in which several people must collaborate to discover who the traitor is, although at the same time they have to carry out tasks represented as mini-games. There is no shortage of various maps, customization options or functions such as proximity voice chat, as well as different roles and subroleswhich is where the game seems to want to distance itself more from the successful project on which it is inspired.