Image: Valorant
Valorant's regional leagues have resumed in mid-January and regular fans of these leagues will have noticed the absence of the franchise-competing teams. In the case of Spain, both KOI, Team Heretics and Giants cannot compete in the Spanish league, so they have had to abandon it, since Riot does not currently allow affiliate teams in these leagues.
Despite this negative part, you always have to look at a positive side. According to the latest leaks, the teams that are part of the VCT will receive a skin special with the colors of the club.
Additional income for teams
Esports clubs cost money and being in balance is already a show in itself. Although Valorant is a competitive scene that is still young, Riot Games will seek balance and maintain those structures that provide entertainment to the detriment of others that either do not try to give a good brand image or are unconcerned with the sports section.
It is in this context that the skins dedicated to the 30 selected teams in VCT should land. In addition to pleasing the fans, this should unlock additional income. It is not yet known if it will all go to the organizations or if the pie will have to be divided with Riot, but in any case it could be good for the treasury of the clubs, especially the Spanish-speaking ones, since they have many followers throughout the world and several recognizable faces in the community, such as Mixwell or Keznit among others.
Leo Faria, global director of VALORANT Esports, also mentioned other revenue streams for clubs. Beyond the skins dedicated to teams, the game could multiply the event packages (Champions Tournament, for example) with a part donated to the associated teams. The amounts could also be increased in terms of prize pool it means.
The 30 teams affected by the possible skins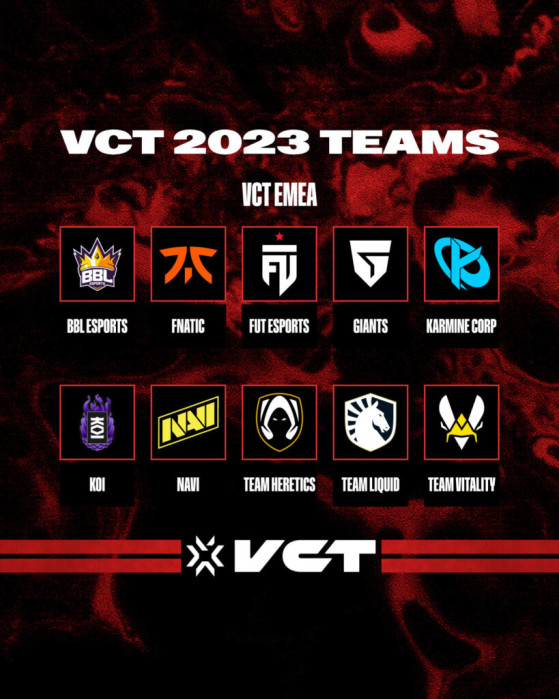 To end the article, we remind you of the names of the 30 teams that will fight for the highest levels in the competitive Valorant, either in LOCK//IN or in their VCT:
VCT EMEA: BBL Esports, Fnatic, FUT Esports, giantsKarmine Corp., koi, Natus Vincere, Team Heretics, Team Liquid, Team Vitality
VCT of the Americas: C9, 100 Thieves, EG, Fury, KRU, LeviathanLOUD, MIBR, NRG, Sentinels

VCT Pacific: DFM, DRX, GEN.G, T1, Global Esports, Paper Rex, Rex Regum Qeon, Talon Esports, Team Secret, Zeta Division