After his successful landing in the world of electronic sports, the Argentine unicorn creates his Valorant team with young female talents. With more than 13 years of experience in the Gaming industry, the company continues to work with the aim of consolidating itself in the electronic sports scene.
27 January 2023 16:56
globant today announced its landing in Valorant with a 100% female roster, betting on gamers with the potential to develop as professionals, with the aim of reducing the gender gap on the scene. The team that will seek to reach the top will be coached by Gustavo Horie (Brazil) and will be attended by:
● Antonella Giuliana "reshi" Ciccone – Controller (Argentina)
● Valentine Blue "Blue" Ferraz Torres – Initiator (Argentina)
● Yasna Andrea "Lynn" Alfaro Aguirre – Duelist (Chile)
look also


● Francisca "fantastic" Valenzuela Castle – Sentinel (Chile)
look also


● Florence "flossy" Gasparini – Initiator (Argentina)
look also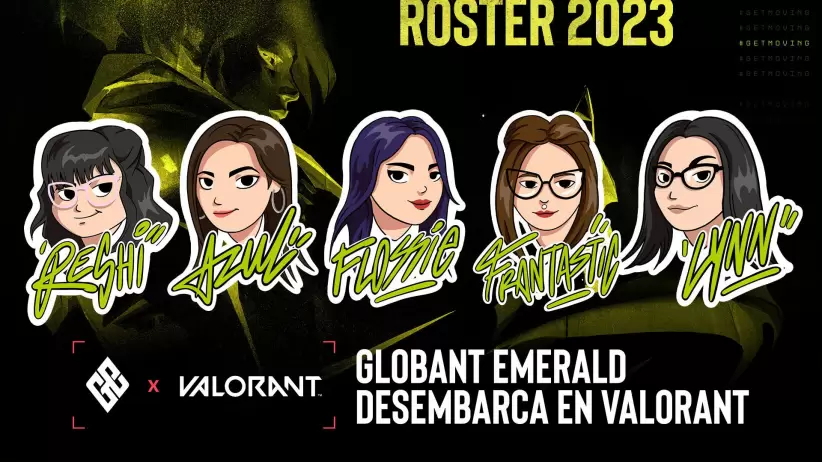 "I thank Globant Emerald for the opportunity, I am very happy for the trust. I've worked with some of the girls on the team before and I know their potential. I promise a lot of commitment, I know that only hard work is the path to success and to reach our goals", he said. Gustavo Horie, Globant Emerald Team Coach.
Through his participation in the 2023 season of Game Changers, Globant Emerald Team seeks to position itself in the regional competitive scene with the aim of contributing to the growth and development of the diversity of esports in the region.
GET's landing in a new discipline like Valorant reinforces the company's strategy of positioning itself strongly in the world of esports, complementing what has been achieved since 2021 with its foray into League of Legends, where it managed to win an LVP and be promoted to LLA after scoring Pure history defeating Furious Gaming in a series, not suitable for the faint of heart.
In turn, in March 2022 it announced the creation of the Globant Emerald Academy, a team focused on helping eSports lovers achieve their dream of being professionals and thus reducing the gender gap in the professional scene.
In less than a year since its launch, the academy has already been able to encourage two of its top talents, Valuxitax and Lil Anittabe called by The Kings to be part of the main team that will participate in LVP Mexico.
Globant occupies an active role in the international game development industry with more than 13 years of experience and professionals around the world producing, designing and developing more than 45 AAA games for clients such as EA, Ubisoft and Warner Games, among others.