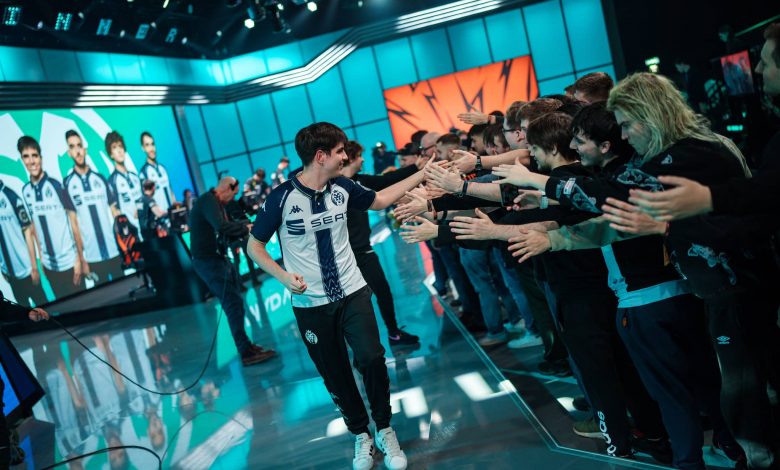 MAD Lions wants to establish itself as a team from the upper area of ​​the League of Legends EMEA Championship (LEC). The lions have placed themselves in the first position -tied with G2 Esports and Team Vitality- after beating KOI, which has added its second consecutive defeat. The Madrid organization has enjoyed the leadership of Javier Prades «elyoya«, which beyond nullifying Kim Geun-seong «Malrang", has owned Summoner's Rift. The jungler has focused his efforts on leaving Emil Larsson behind «larsen» and, accompanied by a great Zdravets Galabov «hylissang«, has started all the skirmishes with Sejuani.
The day started with a surprise: SK Gaming's victory against Team Vitality. Zhou Yang Bo"Bo» lost for the first time in his career in a larger region after the German organization focused its efforts on annulling his early game. Later the LEC matchday was followed by their second fastest win ever. G2 Esports denied Marcin Jankoswki "Jankos" the famous 'law of ex' thanks to massive bot lane superiority that extrapolated across the map. After 10 minutes, the samurai already had a gold difference of almost 10,000 and he finally closed his job with the Dancing Rift Herald.
On the other hand, Fnatic have avoided major drama thanks to a win against Excel Esports. Both British organizations entered the matchup with a record of one win and three losses, so winning was vital to be optimistic for the playoffs. The black&orange They have been grateful that Martin Larsson «Rekkles» endured the game with his Varus so that later Marek Brázda «Humanoid» will finish off the confrontation in the group fights with Kassadin.
Results
Astralis 0-1 Team BDS
SK Gaming 1-0 Team Vitality
G2 Esports 1-0 Team Heretics
Fnatic 1-0 Excel Esports
KOI 0-1 MAD Lions
Monday hours
18:00: Excel Esports against Astralis
19:00: Team BDS vs. MAD Lions
20:00: KOI vs. SK Gaming
9:00 p.m.: G2 Esports vs. Team Vitality
22:00 Fnatic vs. Team Heretics