The Iberian Ranking of CS:GO has a new home and will be updated monthly on ESPM News. Adrian Lpzade, eLoveexperience and Cambronidas are in charge of compiling all the data of this classification that will allow Iberian fans to place their teams in CS:GO in a more local ranking. As you can see, the difference between several of these teams is evident, but this is taken into account when preparing the classification, something that will be explained below. All this information began to be collected in August 2022, so there will be newly created teams that currently do not have as many points. Below is the ranking updated after the competitive month of February.
Iberian Ranking | March 2023
SAW, Movistar Riders and FTW They continue to occupy the top of the podium thanks to their presence in international events and qualifiers. At the national level, the positions won by Kazu´s Store Bois and FALKE, the first of them thanks to his performance in the Master League Portugal qualifiers. The great increase has been registered ZERO. The Spanish team rises seven positions after participating in numerous national and international tournaments and qualifiers. In addition, they have managed to save their place in ESEA Main. N00RG gets into it ranking after returning to the competition like the Portuguese RUSHMORE and ZER0CHANCE, team that will play the next Master League Portugal.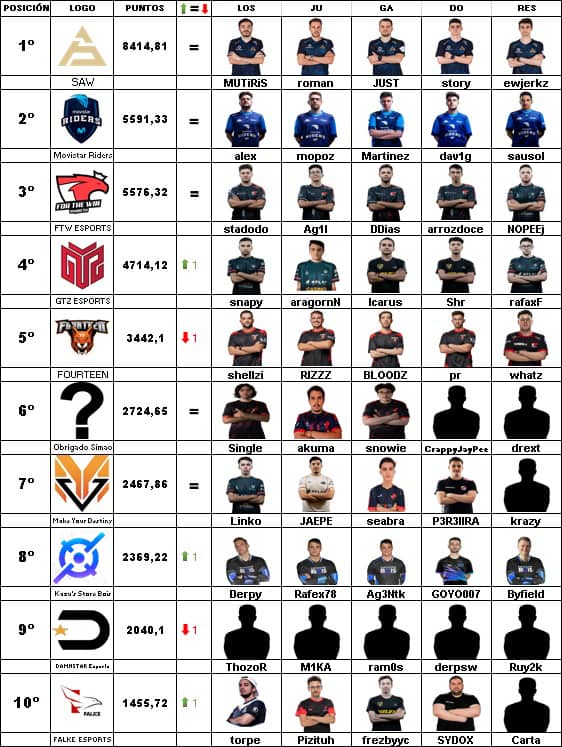 How is the Iberian Ranking of CS:GO?
This classification is in charge of scoring the performance of all the Iberian teams in the different leagues and tournaments, both national and international, as well as the qualifiers for Iberian and European competitions. That is, it is taken into account from ESEA Open or a tournament developed by dogmination to the maximum international tournament such as the Major. However, each competition is assigned a level different, so the score for winning and losing will depend on the level of said tournament.
In competitions with elimination format or bracketthe total number of teams, the level of the rivals, the prize pool and it is On-line either LAN. In this format, points are scored based on how far the team gets in that tournament. In addition, there are rules that reward regularity and perseverance with extra points, but also others that punish such as inactivity or changing players. The maximum score is 10,000 points, so a team with that score can only stay or go down. As previously highlighted, those in charge of managing this classification are Adrian, Eloveexperience and Cambronidas.