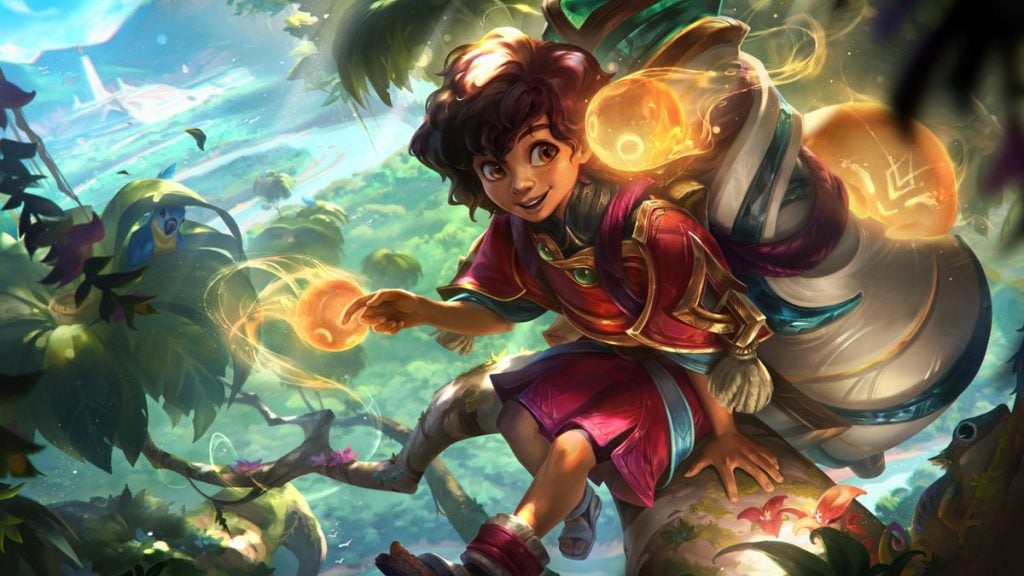 Image Source: Riot Games.
Milio hasn't officially landed on Summoner's Rift yet and is already a headache for part of the League of Legends community. One day after his official presentation, the abilities of the new Riot Games MOBA champion have been leaked and indicate two great novelties within his kit. First, the support incorporates concepts to facilitate playstyles like siege. However, the character stands out mainly for his ability to disengage with his ultimate ability.
Milio's leaked abilities are primarily defensive in nature, although they can be used offensively perfectly. The new League of Legends support stands out for its ability to peel for shooters or control wizards. Also, his direct damage tool is only one, the Q. The character has a profile similar to that of Renata Glasc but, instead of offering all the disengage through damage, it does so through healing or cleanup effects. These are his abilities:
Q– Ranged ability that deals damage and is a chain of control through an orb, similar to Leona's ultimate
W– An orb becomes a field that follows allies to whom it offers attack speed and range
AND: orb that acts as a shield
R.: clean in area that heals at the same time, cast by Milio himself
A Mercury Sash in area as ultimate
Milio's ultimate ability is presented as one of the most decisive tools in the history of League of Legends. The new champion offers a heal and release from opponents' effects, however, not like the Summoner Spell 'Cleanse' does. As he has pointed out On twitter Teshrak, commentator for the Video Game League Professional (LVP), the ultimate de Milio serves as Mercury's Sash since it is capable of removing effects such as Urgot's ultimate or Warwick's.
You can follow all the news in our League of Legends section.