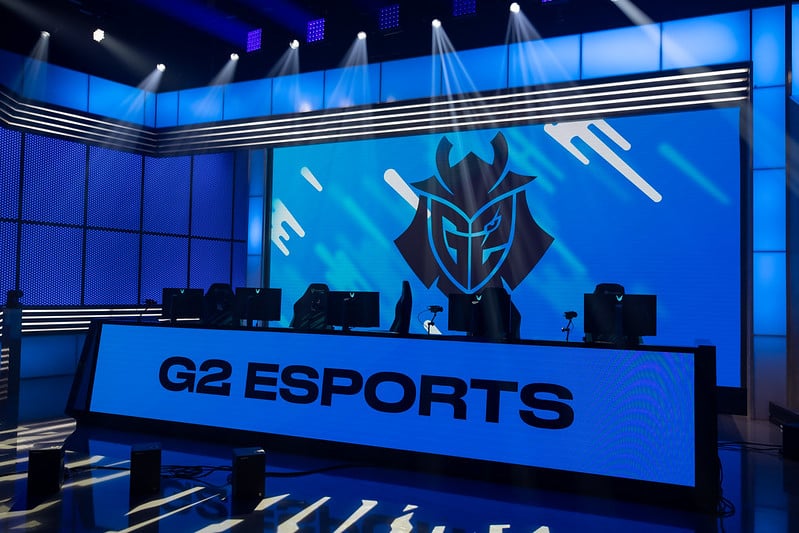 Image Source: Michal Konkol/Riot Games
This weekend we live the end of the Winter Split 2023 of the League of Legends EMEA Championship (LEC). G2 Esports defeated MAD Lions by a clear 3-0, proving that it is the best European team by far. The samurai found no match on Summoner's Rift and, though during the first phase they gave some sense of irregularity, andn the best of 3 and the playoffs They have been dominant against all their rivals.
However, his high level has not only been in official matches. They also demonstrated during training and scrims who were unrivaled in Europe's biggest League of Legends competition. The person in charge of giving us these details was Romain Bigeard, Gerente general from G2 Esports for the League of Legends division. Romain shared the details of the scrims from the legendary European team and truly scare.
G2 scrims stats Dec/Jan/Feb23:
> 255 games (194 wins/61 losses=76% WR)
> average game duration : 22 min

Schedule
> block 1: 1pm-4pm
> block 2: 5pm-8pm
We counted "cancel" if a team did not finish the day pic.twitter.com/c0YXVyVj17

— Romain Bigeard (@RomainBigeard) February 26, 2023
G2 Esports and some numbers that scare
Between December, January and February, G2 Esports would have played a total of 255 games and their win rate is 76%. This equates to his winning percentage for the entire winter season. Far from it, Romain also revealed that the average time of all scrims it was 22 minutesthus demonstrating that they passed over their rivals without any mercy.
Besides, G2 Esports did not cancel any scrim during all the Winter Split 2023something of which koi He is also an example when facing the samurai. However, teams like Fnatic or Astralis decided to cancel all scrims against Dylan Falco's squad. This is something that has given rise to talk, highlighting some that the low-ranking teams have a very weak mentality to face "the best" in the table.
At the moment this G2 Esports excites European fans. However, we will have to wait until Mid-Season Invitational 2023 to see them in action against the best teams from around the world.
More in our section LoL News.