Download these minecraft mods to build faster.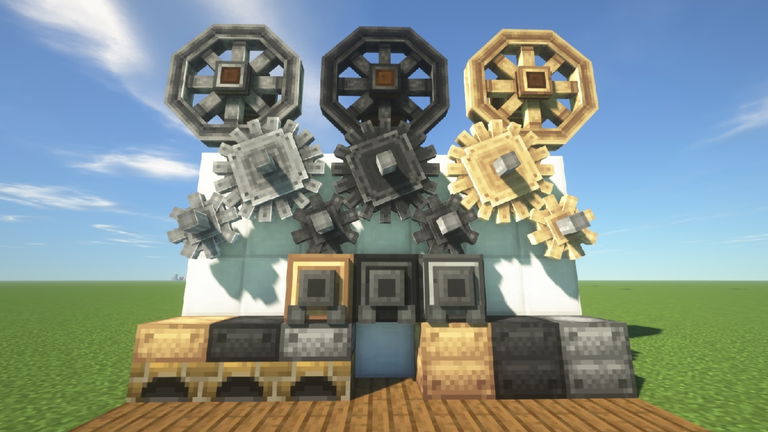 Over the years, Minecraft has shown that it is more than a survival game. Its main mechanic is construction and exploration, two elements that combine perfectly. Players spend many hours to make new objects and raise buildings to enjoy a virtual life. The possibilities of the game are enormous, since they allow build anything you can imagine, especially if you use the best minecraft mod They add new recipes.
we already told you how to install mods in minecraft. They are file packages that can be downloaded for add mods to the base game. They are available on modder pages and there is an official platform known as CurseForge where you can find mods of many types. Below you have a list we focus on the mods that improve building mechanicsadding more ideas, processes and decoration elements.
The best mods to build in Minecraft
There are dozens of mods to build, but you have to spend time to find the best. We make it easy for you with a list full of very useful tools for copy structures and make constructions quickly, almost automatically. In that sense, here you go essential mods to install on your PC.
build craft
What is the name of the minecraft mod to build fast?
Buildcraft, Effortless Building or Better Builder's Wands They are two perfect mods to build faster.
It's one of the best minecraft mods for all that it includes. Its strong point is the pipes that are used to transport objects, fluids or energy. This makes it possible to mechanize many processes such as construction because they can also be make cranes to build faster. This mod has facilitated the processes within the game, so used by many players of Minecraft daily.
Download build craft
create
It's one of the more complete mods of Minecraft and you will be able to do some really amazing things. It is totally focused on add elements for construction, some fully mechanized to get your creations have a life of their own as you can see in the video. So you can build many different spaces in the game with a very useful tool. This mod will give you more freedom to experiment with the raw Materials and decoration both outside and inside the houses.
Download Create
Macaw's mods
More than just a mod, it is a Complete package which is divided by different elements. Macaw mods have building elements to enhance the bridges, doors, hatches and furniture. Dozens of recipes are included to give a very personal touch to your Minecraft house. It's possible to find windows, roofs and doors made with all the wood available in the game, which will allow you to make buildings very well set.
Download Macaw's Mods
Tinker's Construct
Surely this name sounds familiar to you because Tinker's Construct is one of the most popular mods. In addition to building construction, the I craft Tools is paramount in Minecraft and now you can take it a step further. Within the mod itself there is a guide with everything that is added new to have the recipes by hand. And you can also make a wide variety of furniture, a foundry and modify tools that you have in your power
Download Tinker's Construct
schematic
This mod is going to become one of your favorites because it adds a function to expedite construction. Schematica allows you to save your creations to play them whenever you want. This means that it is a tool for copy and paste structures identical that you have made in advance or any of the world. The mod shows a hologram, a preview to place the new building on the stage. The copy in outline form is will keep in inventory and you will be able to manage all your creations to use at another time.
Download Schematic
Better Builder's Wands
It has a similar objective to the previous mod, but block by block. It is a tool to make magic wands that allow you to build each block in a different way. faster. The first thing you have to make is a constructor wand for replicate all blocks you want, but if you improve this tool they can be covered larger areas with a single mouse click. Of course, the basic wand has unlimited uses while the improved ones break over time.
Download Better Builder's Wands
Effortless Building
The title of the mod is already quite descriptive. build effortlessly it is possible with this mod because you can duplicate blocks in real time, create repeating sections or replace existing blocks with a simple gesture. In the interface, add a wheel with different modes of construction that will allow you to build buildings faster than before. Among the architectural elements that can be found are the diagonal walls, walls, floors, spheres or cylinders, among others.
Download Effortless Building
PrefabMod
Building is the fun part of Minecraft, but sometimes you don't have enough time. Well, this mod is perfect for you because you can install manufactured homes anywhere on the stage and are made from blueprints. Like other mods like Schematica, it is possible to preview the build to see how is it on the ground. There is quite a variety of buildings such as castles, bunkers, ponds, stables, temples, farms and much more. For all this, it is a highly recommended mod to build.
Download Prefab Mod
chipped
After looking at all of the above, Chipped may not seem like much. However, he has very original furniture to decorate your constructions with different elements. Includes more than 2000 blocks to transform any space into something new. While there are more comprehensive tools out there, Chipped can be a great complement to other building mods.
Download Chipped
With all these Minecraft mods you will be able to build effortlessly and much faster. However, sometimes you don't need to install mods to do very original creations. You just need a little imagination (and time) to build a working tv without mods.