Hair bows were highlighted on the catwalks of the last international fashion weeks, where the accessory gained a new makeover. Bow ties are trends and have the power to give your look an upgrade.
Bows in different sizes and versions convey a romantic and angelic look. The return to using the accessory is an option to finish off provocative, subversive looks with a touch of personality.
Image and style consultant Tay Borges, author of Strike a Pose, said: "On the catwalks, bows stood out in a very conceptual way – placed under the eyes or glued to the face, for example – but, in everyday life, the trend appears in the hair, tied in a bun, braided, on top of the head or as a tiara."
---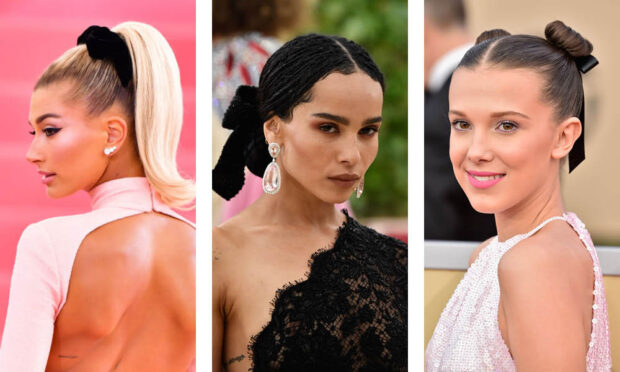 Hailey Bieber, Zoe Kravitz and Millie Bobby Brown (Photo: Playback/Getty Images)
---
Artists Millie Bobby Brown, Zoe Kravitz and Hailey Bieber have already bet on this trend, which was recently confirmed at the 2023 Oscars. Actress Florence Pugh walked the new champagne carpet of the last edition of the Oscars with a bun adorned with a black velvet bow. Vanessa Hudgens, on the other hand, attended the ceremony with an original and creative hairstyle, in the shape of a bow created with her own hair.
---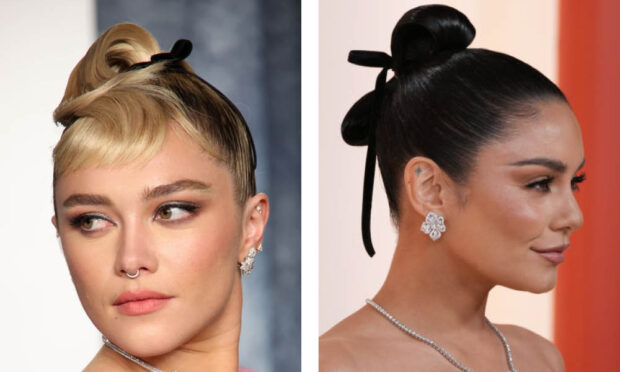 Florence Pugh and Vanessa Hudgens (Photo: Playback/Getty Images)
---
Sandy Liang represented this trend on the runways of the 2023 New York runway shows. In her fashion show, she chose hairstylist Evanie Frausto to model the models' hair with small bows. The professional also produced a ponytail all tied up with bows in a shooting with Lila Moss, for Perfect Magazine.
---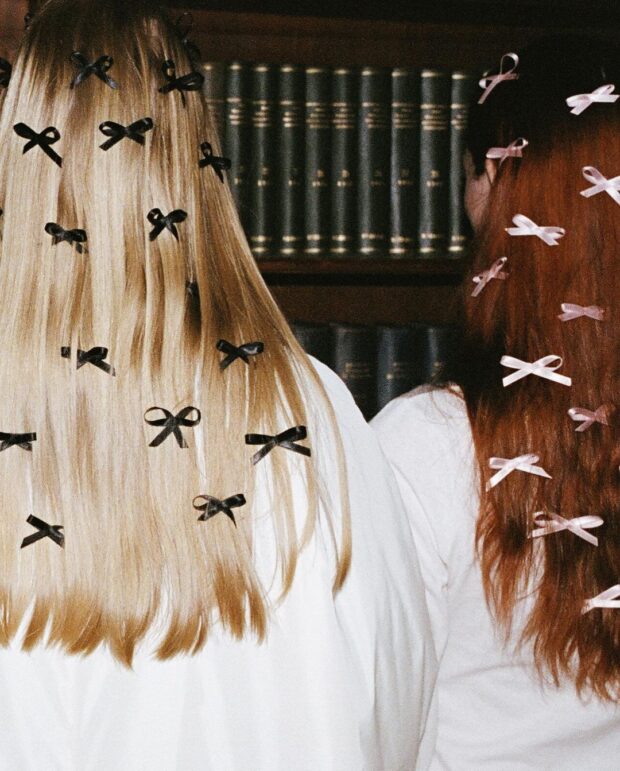 Sandy Liang (Photo: Playback/Getty Images)
---
In the city of London, Simone Rocha, who is a declared fan of the accessory, rocked the catwalk wearing bows, showing a touch of daring.
---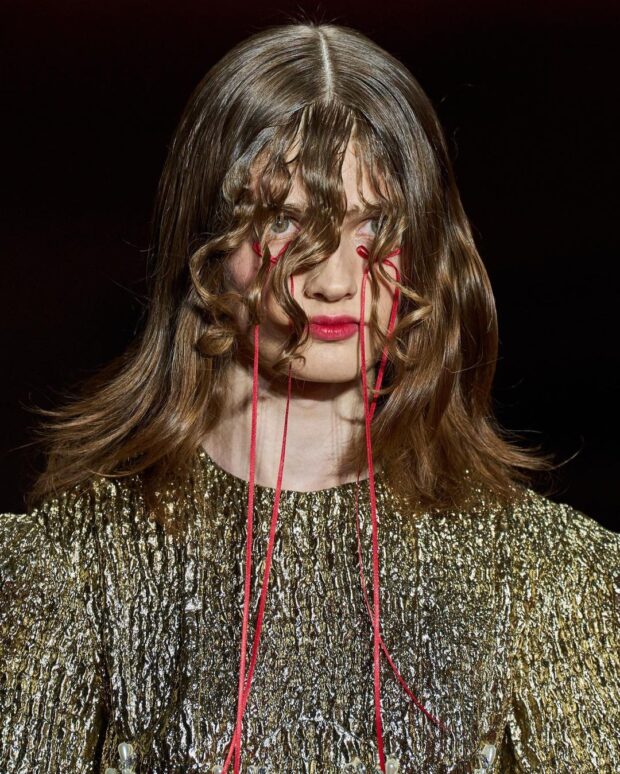 Simone Rocha (Photo: Reproduction/Getty Images)
---
Thomas de Kluyver, on his show with beauty signed by the official makeup artist of Gucci Beauty, the models wore bows hanging even on their faces.
---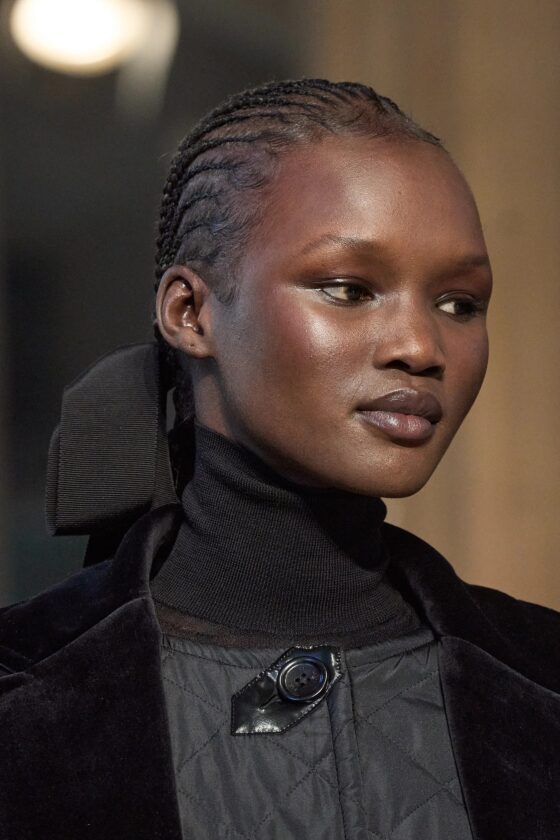 Max Mara (Photo: Playback/Getty Images)
---
At Max Mara, which shows in Milan, she presented low ponytails and nagô braids that were finished off with elegant ribbon bows.
In the Haute Couture winter season, Chanel displayed gigantic bows on top of its models' heads.
---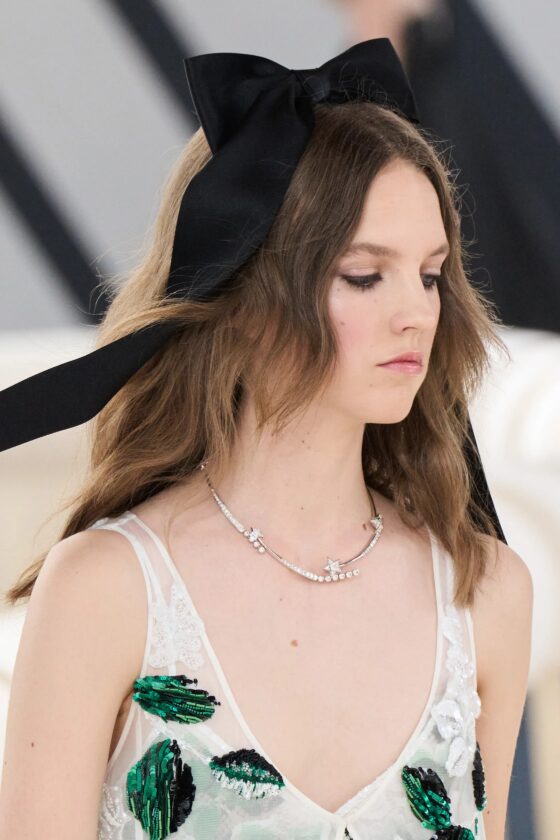 Chanel (Photo: Playback/Getty Images)
---
"Despite the lace having a lightness communication, largely due to the 'ballet core' aesthetics, we manage to manipulate this image according to its elements such as: size, texture, structure and color. The larger the bow, the less delicate the effect on the look. The same goes for more structured fabrics and sober colors, which escape the childish aspect of the trend", finishes Tay Borges.
Featured photo: hair bows. Playback/Instagram