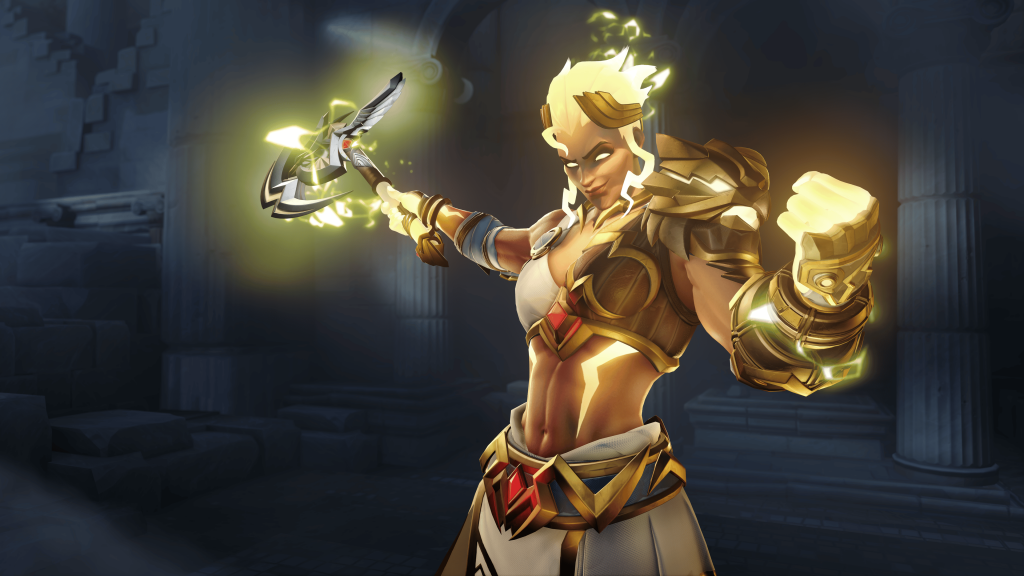 Photo via Activision Blizzard
The second season of Overwatch 2 is in full swing and for the moment marked by the presence of different tanks. If at the beginning it was Doomfist who dominated the servers, over time other heroes like Orisa or Roadhog have made a declaration of intent by imposing themselves at all ranks. However, Overwatch is not exclusively dependent on its competitive matches thanks in large part to the presence of events. The new one is Battle for Olympus and it is already making itself felt within the title.
Battle for Olympus is an event that will be available until January 19 and consists mainly of a new game mode that faces eight players individually. Ramattra, Junker Queen, Reinhardt, Roadhog, Pharak, Widowmaker, and Lúcio are the only heroes available for the game mode. Characters receive a skin set in the Greek mythology and some changes to his skill kit to make the games extremely crazy.
As usual, Battle for Olympus is no exception to other events like Winterland and will feature rewards for players. However, this time the Overwatch 2 community can go together in the same direction: getting their favorite hero recognized on the servers. Activision Blizzard has announced that the character with the most kills during the Battle will have a particular statue in Ruins of Ilios to immortalize the achievement. These are all the changes and rewards:
ramattra poseidon
divine annihilation
Ravenous Vortex is a giant whirlwind that pulls in enemies, then launches them into the air.
Pummel launches large bolts of water that deal more damage and travel further
Junker Queen Zeus
divine slaughter
Lasts 20s
Damage dealt with the shotgun can apply extra lightning damage to their abilities
reinhardt minotaur
divine quake
Lasts 20s
Heals when he charges and slams an enemy against a wall
Can ram up to 3 targets at once with charge
Charge cooldown reduced to 3s
Hits against walls deal lethal damage, extend divine power, and reduce the cooldown of the next charge to 0.5s
cyclops roadhog
divine foul play
Lasts 15s
Greatly increases size and grants 600 health
Throws some rocks that deal heavy damage instead of using his ult's normal shot
Melee attacks deal 5x damage and knock enemies back
Pharah Hades
divine barrage
Lasts 20s
Can be moved during ult
Rocket launcher fires 3-headed rockets
The fuel consumption of Propellers is greatly reduced
Kills heal Pharah and extend the duration of this effect
widowmaker jellyfish
divine infravision
Enemies looking at you through the crosshairs are turned to stone
Lucio Hermes
divine sound barrier
Lasts 20s
He is always able to jump again after falling off a wall.
The bup can slam enemies into walls, dealing extra damage and stunning them for a short time
Attack and movement speed are greatly increased
Infinite ammo
rewards
Allied Victory (Mercy Skin): Complete six challenges in the Battle for Olympus
Nectar of the Gods (500 XP): Get 5 Ultimate Charge Boosters
Hephaestus Blessing (500 XP): Get 20 Over-Health Boosters
Champion of Olympus (5000 XP): Win 10 games in the Battle for Olympus
Poseidon's Pride (Player Title): Land 300 killing blows with Ramattra Poseidon
Zeus's Favorite Offspring (Player Title): Land 300 killing blows with Junker Queen Zeus
Minotaur Master (Player Title): Land 300 killing blows with Reinhardt Minotaur
Scion of the Cyclops (Player Title): Land 300 killing blows with Roadhog Cyclops
Hades' Sentinel (Player Title): Land 300 killing blows with Pharah Hades
Medusa's Faithful (Player Title): Land 300 killing blows with WidowMaker Medusa
Herald of Hermes (Player Title): Land 300 killing blows as Lúcio Hermes
Voice of Poseidon (Ramattra Phrase): Land 25 killing blows with Ramattra Poseidon during his ult
Voice of Zeus (Junker Queen Phrase): Land 25 knockout blows with Junker Queen Zeus during her ult
Voice of the Minotaur (Reinhardt's Phrase): Land 25 killing blows with Reinhardt Minotaur during his ult
Cyclops Voice (Roadhog Phrase): Land 25 killing blows with Roadhog Cyclops during his ult
Voice of Hades (Pharah's Phrase): Land 25 killing blows with Pharah Hades during her ult
Medusa's Voice (WidowMaker's Phrase): Land 25 knockout blows with WidowMaker Medusa during her ult
Voice of Hermes (Lúcio's Phrase): Land 25 killing blows with Lúcio Hermes during his ult