Coaches who mark plays and analyze each game on giant screens, in front of a team of players who carefully follow their instructions. Psychologists who work with them during the week and give them motivational talks. Recreational activities that generate bonds and strengthen teamwork. Concentration, rest and relaxation before each game.
All this comes together in the 'Gaming Houses' where these 'players' who came to kick the table of the traditional sports world live like true 'rockstars'. A new universe that draws on his own values: trust, commitment, respect, vision and a 'give everything for the team, always'.
We are talking about a phenomenon in whose ecosystem hardware, telecommunications, cloud infrastructure providers and video game developers interact and which is inserted in a million-dollar industry whose audience is growing day by day.
By way of example, the League of Legends Continental Finale (LOL) in 2018, played in Chile, was seen by 450,000 people in streaming and 15,000 in the stadium and the company newzoo estimates that the live transmission of this type of event will exceed 122 million in 2024.
Today the video game industry – within it are eSports, which represent less than 10% – surpasses the music and film industries together.
Within this framework, eSports have become the aspirational game owners need for them to be played. A traditional soccer team needs to show players so that people continue playing soccer and the same thing happens in the eSport universe: the bet is to generate content, tournaments and invest money in world cups so that the ecosystem can move.
A little history. Although the magazine Time In the 1980s it already accounted for arcade game tournaments, such as Pacman, it was not until the 1990s, with the growth of the Internet, that video games gained more popularity.
More here in time and pandemic through the use of social networks and the appearance of platforms such as twitch –which made it possible to broadcast the games via streaming, multiplying viewers and fans– boosted activity and favored the growth of different communities of 'gamers': this market is expected to exceed US$ 1,600 million by 2024 and it is estimated that electronic sports will exceed US$71 million next year in the Latin American region.
These numbers caught the attention of brands that began to look closely at the phenomenon. By case, Burger King and pepsi argentina they launched their own eSports league in 2021 with an amateur LOL competition format.
Communicate for new audiences. The Cordoba production company of audiovisual content Roll SA works with Infinity Esports, the club that has grown the most in Latin America thanks to the participation of non-endemic brands within the eSport ecosystem. "Infinity was born in Costa Rica with a LOL team, which would be like soccer in video games. And despite the fact that we had been doing the program 'Por Deporte' in channel 8 for years and we have other audiovisual products, we had to start studying what it was about. Today we make content on the club's networks where there are audiences that do not consume or receive information through traditional media," he says. Lucas Nederfrom Roll.
In this sense, what is being noticed is a change in traditional communication: it is no longer about making commercials for audiences that watch TV or listen to the radio, but rather about generating content for audiences that consume social networks.
"In 2018 the owner of Infinity went to Shanghai and found gigantic pictures of Messi and of Federer next to one of a LOL player, who also had as a sponsor Mercedes Benz. In other words, the world of eSports becomes revolutionary when it comes to communicating. Infinity is one of the two clubs in the world that is sponsored by Tik Tok and we chat with the CEO of Latin America twice a month: he explains to us how the social network works and how people consume and we transfer that to the brands".
Although the International Olympic Committee He already takes them as athletes, Neder points out that it is still difficult to make people understand what it is about and all that it entails: "It is no longer useful to make commercials, you have to generate attractive content for children. For example, Infinity has a house in Mexico City where the players of the LOL team live with their manager, their coach, an analyst, a sports psychologist and a nutritionist. So we involve subway in a documentary we made to explain how professional video game players live."
From traditional sport to eSport. Traditional clubs have also been tempted: "Many are beginning to get into this world. He psg (Paris Saint Germain) has his LOL team playing in the big leagues and a few years ago they reached the final. River and Boca are playing the LVP (Professional Video Game League) of LOL in Argentina, although to be able to play in the league where Infinity plays they have to win the Argentine league, then a regional one and play against the last one in the league to see if they get promoted", details Neder.
For their part, Talleres and Belgrano are also venturing into this universe: "Many clubs start through traditional sports such as Fifa, which, although it is one of the least popular games, is the gateway to other games," says the audiovisual producer.
In cordoba. One of the LOL figures in Latin America is Alberdi, his nickname is Akerman (Gabriel Aparicio). Even so, there is little support because there are no big teams. "Teams become famous through their influencers. In Buenos Aires 'Krü eSport' is very strong because in front is the Kun Aguero. On the other hand, here at the institutional level we are stronger than in Buenos Aires; In addition, there are careers that involve video games. Because the industry is not just playing games but creating video games, applications, peripherals, and that is promoted from here. I think that Córdoba has hit first and is learning while doing it, although it costs the private sector much more because the big people do not understand it, "says Neder.
In terms of infrastructure, we also need to make a leap to be able to participate in competitions with players who play from other parts of the world. "Argentina is quite weak in that sense, it has been left out of international tournaments because it does not have good servers or connectivity. When that improves, the ability to get players –because there is raw material– will grow a lot and there will be players who end up playing in Europe or the United States, as happens in soccer ", he affirms.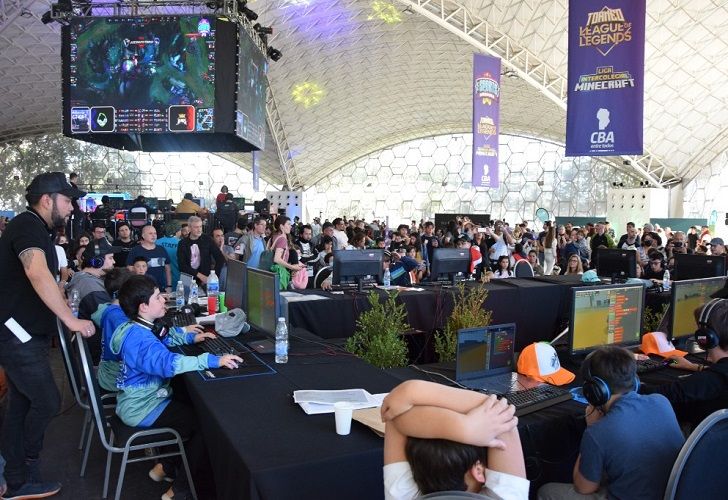 MASSIVE. Some five thousand people participated in the gamer party when it was held last year.