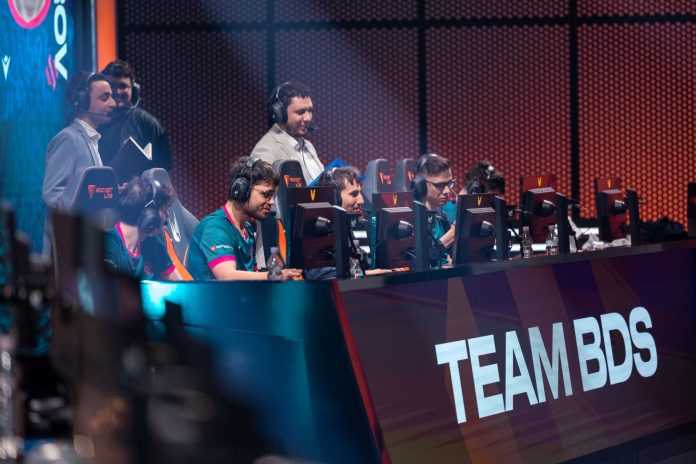 the revelation of spring became the first runner-up. The League of Legends EMEA Championship (LEC) opened its phase of playoffs of spring and he did so by announcing his first finalist. Against many odds, team BDS beat Vitality by 3-0 and got into the Spring LEC Grand Final. The Swiss team gave the surprise and was worth it to convert what had been a great season in the first final in its history.
Tactical beating of Team BDS to Vitalitythe Swiss team went out of the schemes and swept away with a 3-0 at the opening of the playoffs of LEC. The European spring continues to have BDS as the main highlight and with great merits. The ensemble directed by Adrien Picard «gotoone» continues unstoppable and gave an authentic review with a surprising 3-0 to Vitality. He MVP of the series falls into the hands of Juš Marušič «crownie» who shone to earn a ticket to his first LEC final.
WELCOME TO THE #LEC FINAL SPRING:@TEAMBDS SWEEP @TEAMVITALITY! pic.twitter.com/5D8MHOpcAP

— LEC (@LEC) April 17, 2023
Team BDS destroys Vitality to reach their first LEC final
Despite the fact that the preview invited us to imagine a tight series, team BDS He killed those possibilities from the get-go. The Swiss team was very superior to Team Vitality and managed to impose their strengths in the best way. BDS featured a comfortable and exemplary performance by Adam Maanane in pocket champions, like Darius and Zion. However, the biggest difference in the match came in team fights and map moves, where crownie together with Labros Papoutsakis"Labrov» dominated.
TREMENDOUS @CrownshotLoL ! The game is very expensive for @TeamBDS

📺https://t.co/vMMCKyKAWG | #LECPrimavera pic.twitter.com/EBTVl8TNPP

– Super League – League of Legends (@LVPesLoL) April 17, 2023
The bottom lane pairing of team BDS He had his best series in a long time. Although the level had already been more than high, this time it was high enough for Elias Lipp «upset» couldn't even row to Vitality's side. BDS He knew how to plant in an excellent way in every way, leaving Vitality far from obtaining a map.
TRIPLE KILL OF @Nuclear_int! Brutal the play of @TeamBDS that destroys @TeamVitality

📺https://t.co/vMMCKyKAWG | #LECPrimavera pic.twitter.com/RQAoo23cCB

– Super League – League of Legends (@LVPesLoL) April 17, 2023
nuc (Cassiopeia) and crownie (Aphelios) combine their ultimates to sweep Team Vitality / Via LVPes
After one of the best series of his career, crownie she shed tears of absolute consecration. The Slovenian shooter reaches the first LEC final of his career and it does so by unexpectedly inserting team BDS in his first LEC final. The next Sunday April 23rd both will have the opportunity to win the crown of the spring LECthus also obtaining his pass to the Mid-Season Invitational (M: YES).
❤️👑 @CrownshotLoL pic.twitter.com/XiFJ7ScPPf

— LEC (@LEC) April 17, 2023