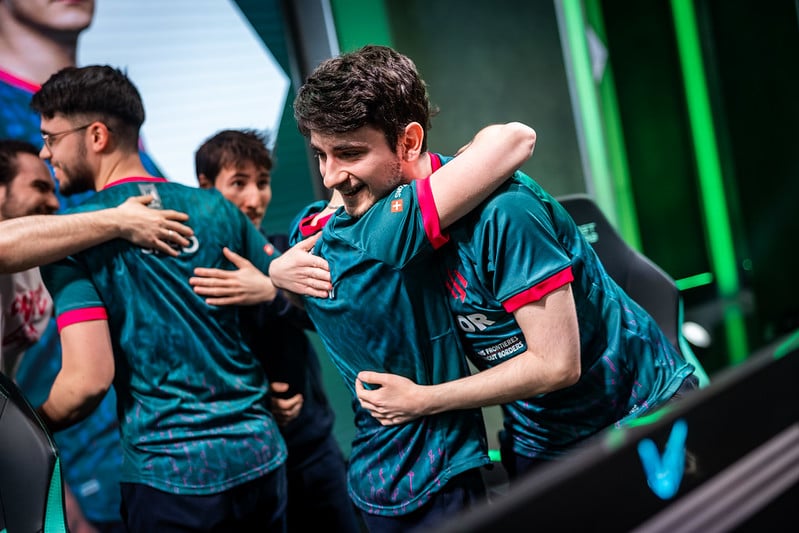 Photo by Michal Konkol/Riot Games
In the absence of finishing the season and the year, Team BDS has already signed its best performance in the League of Legends EMEA Championship (LEC) to date. The Swiss organization will be in Montpellier, France, as a finalist in the European league after spending all of 2022 in the lower zone of the table. Although BDS began to show improvement in winter season, it has not been until spring season when the computer has exploded. The team has improved to the point of posting the region's best winning streak to date.
Team BDS is the only team in the region to reach a 10-match winning streak so far in the LEC in 2023. BDS has not known defeat since last March 25, when they beat Team Vitality in the group stage. Subsequently, the team prevailed against KOI – repeating the regular phase confrontation – and SK Gaming to qualify for the playoffs. Already in the knockout phase the Swiss organization beat Vitality again with a resounding 3-0.
The team that is closest to the Team BDS streak is G2 Esports, which, due to a map against KOI, failed to win the 10 consecutive maps that the Swiss team now has. In the winter season the samurai racked up five straight wins after beating Team BDS, MAD Lions and KOI in the group stage. However, when they reached the G2 playoffs, they lost the third map of the series against the Ibai Llanos club. The 10-time LEC champion then went on to add another five-game winning streak.
Team BDS awaits its opponent in the final
Thanks to the 3-0 victory over Team Vitality to reach 10 consecutive victories Team BDS awaits the second runner-up of the spring season of the LEC. The first round of the lower bracket is led by MAD Lions and G2 Esports, so the winner of said confrontation will face off against Vitality. From this second match, BDS will meet its opponent in the first final it will play in its history. The European champion will have the second place in EMEA for the Mid-Season Invitational (MSI), but if G2 wins the season, the ranking will be decided by points.
You can follow all the news in our League of Legends section.