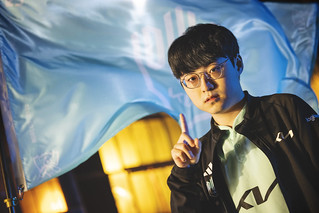 Photo by Colin Young-Wolff/Riot Games
League of Legends is a video game that can be very exhausting on a mental level, especially in the competitive landscape. The schedule is sometimes too tight and the players have to play a lot of games. Not only that, but the training routine can sometimes be very strict. We have seen this mentioned on several occasions in teams from the League of Legends Champions Korea (LCK) wave League of Legends Pro League (LPL).
Well, hours ago we echoed some comments from Heo Su «ShowMaker» that have not gone unnoticed in the eyes of anyone. Thanks to Rita"@cutebchu» We have witnessed those comments from the midlaner of DPLUS KIAwhich seems to be clear that in the Summer Split 2023 must win at all costs.
ShowMaker reflects on his regretful spring split:

"I will increase my training during the summer season. I will trade my health for League of Legends strength, sign with the Devil, and then play well in the summer season."

— Rita (@cutebchu) April 23, 2023
ShowMaker's comments that worry many
It is well known that ShowMaker is one of the most competitive players on the professional League of Legends scene. Without going any further, she waited a year to take revenge on G2 Esportswhen the European team managed to defeat them in the World Championship 2019. It was in 2020 when he lifted the international title so coveted by all. Of course, that is not his only aspiration and he always makes it that clear.
The first thing he claims is that he Spring Split 2023 it was a real blow. «Our expectations were really high and I had full confidence, but in the end it turned out to be a very difficult split."ShowMaker claimed. Stresses that was under great pressure and that he did not feel particularly well, especially on a mental level.
«For summer things are going to change. I will increase the hours of training. I will trade my health for force in League of Legends. If necessary I will sign with the Devil and then I will play well throughout the Summer Split 2023"ShowMaker said. Some words that, of course, have scared some fans. It is not for less. It seems that the midlaner He wants to win again at all costs, he wants to return to the throne as the best in the world and he will do whatever it takes to achieve it.
More in our section LoL News.