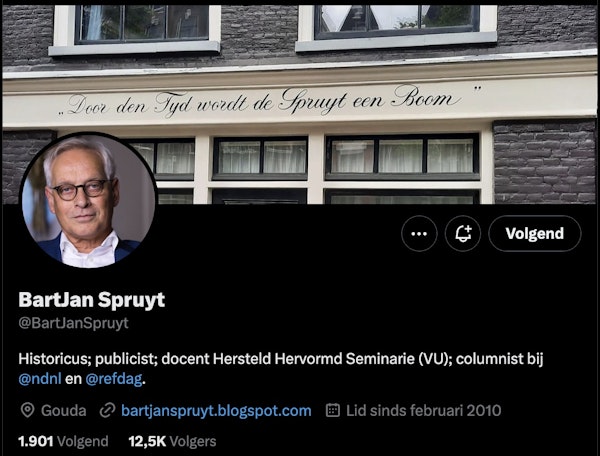 bart jan sprut co-founder of and was a director from 2002 to 2005 Edmund Burke Foundation, From 1994 to 2002 he worked as a political journalist in correctional newspaper, Spruyt wrote, among other things praise of conservatism (2003). It includes essays about conservative thinkers and politicians with whom Spruitt felt connected, such as JL Heldring, Ernst Heinrich Kossmann, Edmund Burke, Alexis de Tocqueville, Winston Churchill, Dietrich Bonhoeffer and CS Lewis.
In 2005 he wrote a Book Week essay future of the city, In July 2008, Spruyt was appointed political columnist at the weekly. Elsevier (as of 2013), HP / The Time (as of 2011), Domestic Administration (as of 2012) and earlier Opinion (until that magazine's closure in May 2008). He organizes activities for students interested in conservatism Burke Foundation,
Spruitt went under cover in 2005 at his own expense after he was threatened because of his statements about left-wing politics.
Spruyt has been a lecturer in culture and society for many years Drystar Educational In Gowda. He is also a lecturer in Church History restored reformed seminary of the Open University.
Spruyt: "In 2000 we founded Edmund Burke Foundation But. We wanted a Dutch Conservative Party and thought this could be done through a redistribution of the political landscape. There was substantial potential among disgruntled conservative supporters of the CDA, VVD and ChristenUnie, people who are always hijacked by the left wing of their parties.
Politics is about a certain social order and what exactly do you want to defend. I like SGP, often vote for it, but haven't fully committed myself to it. I do not understand the SGP's position on women and I disagree with the party's religious aspirations based on Article 36 of the Dutch Confession of Faith: The government can only give place to Christianity.
Our political aspirations were about freedom, classical liberalism. A democracy has a certain type of people, a certain culture, a certain morality. We were classically liberal, some with Plato, who thought deeply about the cultural foundations of society. After all, a democracy needs a certain kind of citizens, well educated, well educated.
We kept it intellectual in the beginning, people had to get used to our ideas, discuss neatly with each other, discuss in small rooms. Writing books, opinion pieces. And think carefully: what exactly is conservatism, and what is its image of humanity? We thought we could make time for that. Dries van Egt ('that anti-Semite', Spruit grunts) sat on the board of recommendation, Aimert van Middelkoop, Hans Hillen. I did it together with Joshua Livestro, Andreas Kinzing, Paul Klitur. An important club
Everyone was bored under Purple and the money was slowing against the plinth in the Netherlands. As a result, we got a lot of attention in the media, but our dream party could not materialize. Once I was having lunch with Hans Hillen. I said, 'We spend a lot of time and money trying to get the Conservative Party off the ground. I knock on that door, but no one answers. Hylan replied: 'Do you know why, Bart dear? There is no one behind that door. They don't care at all. They come to visit us, do a little shopping and choose topics and ideas with which they can score.
But alas: Then came 9/11 and Fortuyn and Van Gogh were murdered. There was suddenly a tremendous urgency in society. Pim was killed by a left-wing extremist, Theo by an Islamic extremist. Then you can have intellectual discussions in small rooms, but shouldn't we become more concrete, focus more on current political events? In 2004 Wilders parted ways with the VVD. The reason was the Turkish issue.
I kept in touch with Geert, I worked for him for six months, we went to America together for two weeks in January 2005. It was my idea of ​​a study tour of sorts. In the United States they know what conservatism is. We visited the White House, the Senate and a lot of political think tanks there, neocons Often, other clubs, which were inspired by the ideas of Leo Strauss, such as Heritage Foundation And this American Enterprise Institute, Even met Piet Hoekstra, who later became ambassador to the Netherlands. The Wilders were great and inspiring company. I read him about Ronald Reagan from a folder and said, "That's what politics is about, Geert: tight finances, defense in order, a small government. And ultimately it's about culture," and then I thought he was about our culture, too. Something about Platonic is understood plus.
Wilders said, let's do this, Bart darling! Even if we get only 1 seat: this is what we are going to do.' In the end, those points didn't make it. Geert is a warrior, a street fighter, he has to survive. That is why he did not want and does not want a tough election program in which there is as little political philosophy as possible. Main agenda items: stop Islam and stop immigration. Wilders wanted to move towards SP socio-economically. I wanted a real conservative party.
We parted as good friends and Geert is a golden person as a person. I have often eaten at his house with my wife and his wife. At home, there was no need to discuss politics. I was sick for some time and I kept getting SMS from Geert: How are you?' He is very loyal. My wife became seriously ill and I didn't hear anything from anyone, even though I walked around Binnenhof for 15 years. Only Geert called.
One of Spryett's fiercest controversies was addressed in an open letter to Minister Pete Hein Donner. In devotion to truth, something that is now unimaginable. In it he reprimanded the minister for providing space for a belief that Western society wholeheartedly rejects and does not allow itself any space for those who think differently. 'Christians have become a big problem in the Netherlands. Because the problem, Your Excellency, is not with those who want to defend the boundaries of our democratic system – the result of the process of Western civilization – even if they rarely or never see a church inside, but with those who attend a church service every week or regularly, who in practice have fallen prey to a naïve multiculturalism.' ,
Spruyt: "Then came that night with Ayaan Hirsi Ali, that thing with Rita Verdonk, and I thought: 'I've got to get out of politics…' Binnenhof drove me crazy, wanted to be in the shelter again, Wanted to teach. I really like it.
I briefly hoped that Thierry Baudet would become the new Fortuin. Don't know what happened to him. The lightning is strong, he has gone mad. We organized summer schools, and he was one of them. Thierry studied in Amsterdam, managed to organize everything, there was a student club. Invited speakers, organized discussion evening. I've been there a few times. Boudet wrote some pieces about Houellebecq that I really liked. Then he started working for Paul Schaefer and there something went wrong. Then he wrote another Summer Manifesto, which I really liked. But then it went wrong. I did not understand what he said after this.
Luckily, we now have the BBB and Caroline van der Plas. I haven't been asked yet, oddly" (smiles).
"I think what's positive about Caroline and the BBB is that they're not antagonistic like the Wilders and Boudet. They present themselves very differently. She talks to everyone, they're creative. They really stand up for farmers and citizens. My wife is a farmer's daughter. I always loved working on their farm in IJsselstein. Shoveling cows out of the ground. Often a helicopter circling over the meadows As if no dirt had been dumped in the ditch. Farmers were already being looked at as criminals. I am a simple boy, the son of a divorced mother on welfare, I know what poverty really is. I am not born with a golden spoon in my mouth, not in an intellectual family. I have a soft spot for people like Carolyn, she stands up for the common man, people who are always screwed. D66 more green leftI have nothing to do with it.
He's like Fortuin, Wilders and Baudet now framed By MSM but people have figured it out by now. There is a kind of oligarchy in the Netherlands, consisting of superhuman and uprooted people. An elite who have no understanding of our history. They are worse than the worst Puritans ever in the 17th century. 'Think what you want' is no longer allowed. The upbringing of the children will be placed under guardianship. There is a severe lack of identity among our leaders. Recognition gives self-awareness and a straight back. If you don't have a straight back, you are lost.
I find it really unbelievable what is happening in the Netherlands.
Alexis de Tocqueville warned against On Democracy in America:
When I think of this new form of tyranny, I see before me a mass of men who in every way pursue equally frivolous and trivial pleasures; Those who turn in on themselves, who focus only on their family and a handful of acquaintances and who are hardly aware of the existence of other people, who live only for themselves and themselves. Above this individual mass sits a guardian mechanism of power, which monitors the ups and downs, which foresees and organizes everything, but which keeps the people in a state of immaturity. It guarantees its citizens a safe and well-cared-for existence, but insists on deciding for themselves what is good for them. Thus man will use his powers of decision-making to a minimum; Personal will power will allow himself to be pushed back into an increasingly narrow zone.
"Further on in a village I go to church. After the sermon I usually talk with the members of the congregation. Many farmers and carpenters. Hardworking. Director. I feel comfortable among those people. They vote for BBB or SGP. I come from this area. It used to be beautiful here, the landscape of Gouve. But the landscape has been raped. Modernist aggression, in which the new does not fit into the existing, but the old is overwhelmed.
The Dutch are becoming a massive people without any identity. Citizens have been made completely dependent on the government. They also have to ask the government how to think. People behave too polite, become zombies, let yourself be fickleness and other nonsense. I am very annoyed with the interference of the government. Encroachment on our freedom, bureaucracy, patronage… I do not understand why there is not more protest against this.
I don't believe in conspiracy. It is only the result of the long march through the institutions that began in the 1960s. Think social studies teachers with long hair and denim suits. The media is saturated with social-liberal thinking. If you're critical about it or bashful about it, people think it's creepy and you get quiet. Look at the well-mannered Martin Sommer, who is ridiculed in his own paper by ombudsman Jeroen Tromelen. we know them from Cheat About the poison ship.
The bigger picture is that the Netherlands seems to be choking on its own impotence. There are glimmers of hope though: the rise of the BBB, and Mrs. Kag appears to be leaving politics after interviews with her daughters. So there is hope. Especially if people are now also going to read my friend Andreas Kinzing's books.