ONELeaving human civilization for a life of adventure in the mountains is a fascination for many, but for one Colorado Springs family, the dangers of living off the grid were made brutally clear. Last week, the remains of Rebecca "Becky" Vance, 42, her sister Christine Vance, 41, and Becky's 14-year-old were found in a remote campsite a year after they headed for a new life in the Rocky Mountains.
"I had a feeling around March that something had happened to them and I wanted to go to the mountains to see if they were up there," said Becky and Christine's stepsister Trevala Jara, 39. "But those mountains are huge . Where would you start?"
The story of the Vance sisters and of a mother's efforts to protect her son from society has entered a widespread social narrative: that the best way to deal with uncertainty in the world is to detach from it.
But their experiment ended badly. After their decomposed remains were discovered by a hiker at a remote campground in mountainous Gunnison County earlier this month, sheriffs soon discovered two more. The trio had left last August and dropped off their belongings at Jara's home in Colorado Springs before leaving.
"My older sister Becky was freaking out about the way the world was going. It wasn't going the way she wanted it to or the way it was supposed to. And honestly, I'm with her on that. It's not. Big time. There are more shootings, hate crimes. Covid is pretty much what broke the camel's back. Everybody felt the atmosphere change. People changed. The economy changed. Politics changed. Everything changed. They didn't like it, especially Becky," Trevala said.
"I'm angry," she added from the living room of her home. "My sisters and my nephew are needless deaths and so yes, I'm mad."
Becky, a single mother, was afraid of the influence the world would have on her son, Trevala said. She described her sister as a "caring and loving person" who "believed she saved her son and Christine by going off and being herself and not letting the world affect them".
But unlike the survivalists on the hit TV show Alone, the campers didn't have a button to alert rescuers; the campers had no means of contacting the outside world. The county medical examiner has not been able to determine how or when they died, but it is clear that they had very little experience in outdoor survival.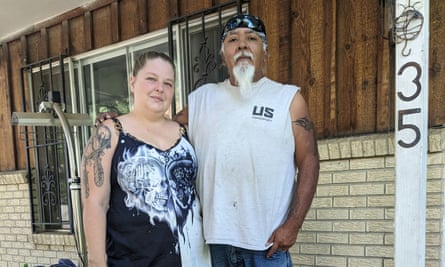 "The last time they went camping was when we were kids," Trevala said. "My sister didn't have a button to press when they wanted to quit. I wish they had practiced. You can look on YouTube and there's some good survival stuff there, but reading it, watching it or whatever, it's totally different than doing it and living far off the grid."
According to reports, the campers had managed to build no more sturdy shelter than a tent and had little more than canned food and ramen noodles from the supermarket. Trevala and her husband, Tommy Jara, had offered them their property in the mountains, which includes a generator, but Becky, the stronger-willed of the couple, whom Trevala describes as "smart" and an "introvert," had refused.
The trio left last August and dropped off belongings at the Jaras' home in Colorado Springs before leaving.
"She was so smart. She wasn't crazy, she wasn't mentally unstable, she wasn't a hippie," Trevala said. "But they were definitely different. Becky just wanted to get away from everybody."
The campers were not equipped to face the large predators that roam the Rockies. Tommy, who had tried to talk the sisters out of the plan but was rebuffed, said of Becky: "She just wants her child out of society, which, as we all know, is not good."
Tommy, who has Navajo, Hopi and Yaqui heritage, was taught to hunt in the mountains and now works for a gold mining company. He said he has been hit by a sudden snowstorm in mid-July: "These mountains are a beast. If you don't know how to handle them, they will handle you."
Tommy and Trevala's theory is that the group probably did well for a few months before the weather turned. Gunnison, at nearly 8,000 feet, saw record snowfall last winter.
"Even the most avid outdoorsman would have found it very difficult," he said.
Tommy introduced the trio to an experienced Native American outdoorsman who had lived off the net.
"Our elders showed us what and what not to do. Plants you can eat and plants you can't. Bark you can cook for painkillers, how to set snare traps. He couldn't convince them," he said. The best we could do was show them some survival skills, but there's only so much you can put down for an hour and talk and you're not going to remember what somebody told you."
Still, the campers decided to jump in feet first, choosing a spot that Native Americans knew to leave in the winter.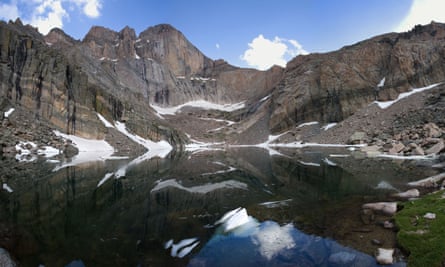 "It's probably the harshest place this side of the western slope with the coldest weather in the state," Tommy said.
And the cold is not the only danger. There are also wolves, bears and mountain lions to consider.
"The Mountain Lions in the last year have been very aggressive," Tommy said. "There have been many attacks."
Near Jaras' mountain property, a bear and a mountain lion recently attacked an RV.
"They did it together," Trevala said. "But these two did!" Amazingly, the campers left without firearms and only took a knife.
If there's a message, it's not that living off the grid is wrong—at least not for people with the benefit, slowly learned, of survival knowledge.
"I just hope that my sisters can teach people that you can go off the grid with no experience," Trevala noted. "Those mountains are unforgiving. But go ahead, turn off the Internet, turn off the TV. Go back to pretty much how we were in the 1980s. Just don't live off the Web."