Fortnite is the only multiplayer I play today that I feel really comfortable with. Although I have to say, I'm quite mean, but hey, I have a good time when I play a few games, it must be said. A few days ago, we started reading some Rumors about a possible crossover with Resident Evil And finally, it has come true.
If we already found the new Fortnite update fun, the fact that the Capcom franchise joins it as a collaboration will make it even better. This crossover is available as some skins that They are now available in the in-game store. And that, of course, I am going to show you below, followed by their price, so that you can take a look at it.
This is the crossover of Fortnite with Resident Evil
This collaboration has been announced a few hours ago through the official Fortnite Twitter account. ✅
In it, we can see that Leon S. Kennedy and Claire Redfield arrive as Skins. 🤩
Accompanied by Leon's combat knife, a briefcase, the 4 emblematic keys of the games and the famous Umbrella umbrella. ✌
Next, I show you the images and prices of all and each of the products.

On the one hand, there is complete pack of all products At a price of 2,100 bucks. 👀
On the other hand, there are the Leon S. Kennedy and Claire Redfield skinscosting 1,500 bucks each. 👀
Finally, there is Leon's combat knife and Umbrella's umbrellawhose prices are 500 bucks each from them. 👀

The duration of the collaboration delivered is unknown Epic Games and Capcombut at a minimum, they will be available in the Fortnite store for a week. ❗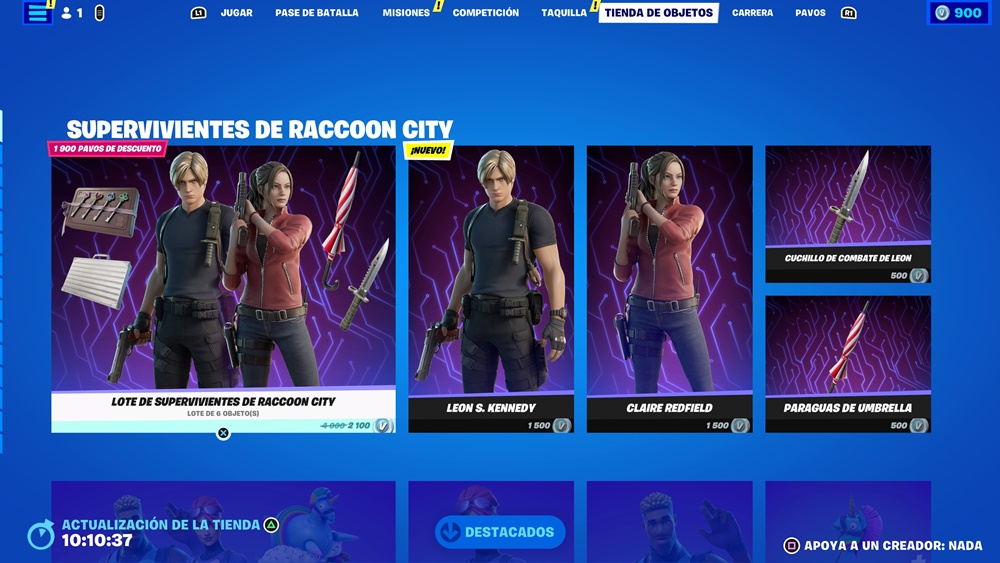 The perfect crossover at the right time
It seems that the crossover between Fortnite and Resident Evil is the result of a simple coincidence, but no. This is because, in the coming days, specifically on March 24, 2023, we will welcome Resident Evil 4 Remakewhich already has its first analysis, available from today.
If you want to take a look, do not hesitate to click on the link that will take you to it. I warn you that a A real great game and a remake that lives up to expectations.