Well, foolishly, there is very little left for season 3 of Overwatch 2, and the desire is very high. Of course, you already know that no new character will arrive with this season, since they will include a new one every two seasons that is to say, every 4 months about. But hey, even so, I'm sure there will be a lot of new content coming and, of course, some patch to adjust the abilities of the characters.
Likewise, the team Overwatch 2 he wanted to advance work making some adjustments in a patch that hit the game just yesterday (January 24). A patch that has generated some controversy, but it is worth mentioning that this is a small preview to another much bigger patch that will arrive next to season 3, for which there will be many important adjustments. Well, I leave you with the patch notes.
Overwatch 2 January 24 Patch Notes
You can see full patch notes in this link, Don't worry though, I'll leave them below:
orisa
Fortification
Bonus health reduced from 125 to 75.
roadhog
grappling hook
Impact damage reduced from 30 to 5.
The distance between Roadhog and the enemy's final position after being hooked has been increased from 3m to 4m.
Junkyard (weapon)
Damage per projectile reduced from 6.6 to 6.
Cooldown reduced from 0.85s to 0.8s.
Cooldown time reduced from 2s to 1.75s.
Maximum ammo increased from 5 to 6.
Sojourn
railgun
Energy gain is no longer based on the damage dealt by the primary shot. Each primary shot hit on an enemy player now grants 5 energy.
Primary shot damage per projectile reduced from 10 to 9.
Kiriko
ofuda of healing
Cooldown increased from 0.85s to 1s.
ERROR CORRECTION
General
Fixed a bug affecting the "How to Unlock" text of the Winged Sandals weapon charm.
Adjusted the sound of footsteps so that enemy footsteps are more audible.
Heroes
Pike
Fixed a bug affecting the physics of Lúcio's Hermes skin.
reinhardt
Fixed a bug that caused Reinhardt's hammer to look misshapen during the Waltz emote.
Sojourn
Fixed a bug that prevented Sojourn's Cyber ​​Detective skin from loading.
Wrecking Ball
Fixed a bug where Adaptive Shield could be applied incorrectly before the cooldown expired.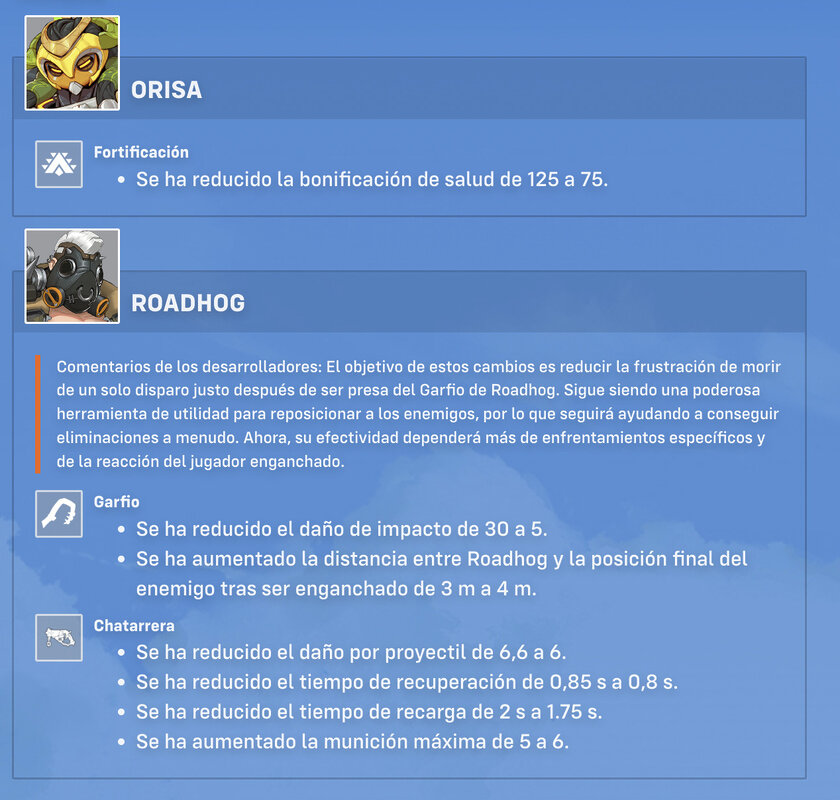 Which of these adjustments have shocked you the most? Kiriko's has surprised me, since now it will cost him a little more to heal when this is his main job, although the developers of Overwatch 2 they insist that they do it to make it more aggressive. What do you think?