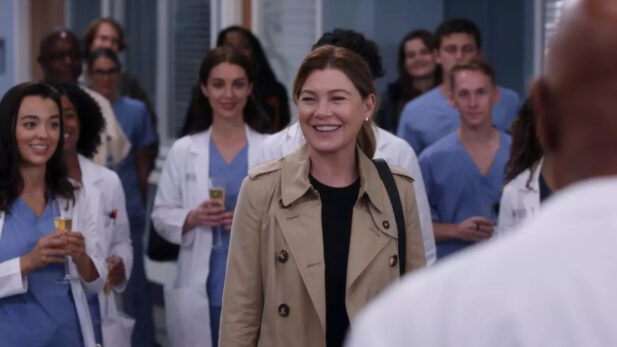 Ellen Pompeo's farewell on "Grey's Anatomy" (Photo: Playback/ABC)
One more casualty for "Grey's Anatomy"! Actress Kelly McCreary, who has played physician Maggie Pierce, Meredith Grey's half-sister, for nine seasons, is exiting the hit ABC medical drama. Her farewell episode as the series' fixed star will air on April 13.
"After nine seasons, I am saying goodbye to Maggie Pierce and her Gray Sloan family. It was a great honor to be a part of such a legendary television institution as 'Grey's Anatomy'"McCreary said in a statement to The Hollywood Reporter this Friday (17). "I will always be grateful to Shonda Rhimes, Krista Vernoff and ABC for the opportunity, and to the incredible fans for their passionate support."he added.
She continued: "To spend nine years exploring a character inside and out, while reaching a global audience with impactful stories, is a rare gift. It has given me the opportunity to collaborate with, learn from, and be inspired by countless brilliant artists, both in front of and behind the camera. Playing Maggie Pierce has been one of the true joys of my life and I leave with deep gratitude for every step of this journey. I am excited about this next chapter and what the future holds.".
Recent episodes of the series have highlighted marital problems for Maggie, chief of cardiothoracic surgery at Gray Sloan Memorial Hospital, and her husband, Winston (Anthony Hill). Maggie first joined the show in season 10 as the long-lost daughter of Meredith's mother, Ellis Gray (Kate Burton), and boss Richard Webber (James Pickens Jr.). Pierce was promoted to a series regular for Season 11.
The news of McCreary's departure comes at a crucial time for the show, as the show also lost its biggest star, Ellen Pompeo, after 19 seasons. As well as Pompeo, who will return for the season finale, McCreary will also pay a visit in the last few episodes.
"Kelly McCreary is a writer's dream come true; bright, nuanced, thoughtful and kind. We will deeply miss her and her beautifully crafted Dr. Maggie Pierce, declared showrunner Krista Vernoff. The screenwriter herself will also leave the team before the 20th year of the series.
On the other hand, Pompeo also paid tribute to her colleague in an Instagram post. "Congratulations Kelly. Thank you so much for your super hard work and the valuable contributions you've made to the Grey's legacy. Looking forward to your next chapter", wrote the actress. Meredith's farewell episode came at the end of February. Ellen, however, remains attached to the show as an executive producer. She will also continue to narrate the episodes, and guarantees that she will appear in the series in the future.