Ibainéfico 2023: Schedules, captains, participants and games of the Ibai charity event
Published
For
municipality

The Ibai Llanos solidarity event will host a new virtual edition. In it, creators from both Spain and Latin America will come together to entertain and create content together, and all for a good cause.
After getting 600,000 euros donated in the five previous editions and adjust the date of the event a few days, the Ibainéfico returns to the charge and with great force to help a charitable cause. The goal this yearaccording to Ibai himself, is that of the reach a million euros in total, so the goal for this year would be to reach or try to exceed 400,000 euros in this sixth edition.
To do this, Ibai has asked for help from content creators who want to participate, and with it a long list of participants has come out who will be at orders from Ibai himself, TheGrefg, Auronplay or JuanGuarnizo, depending on who chooses them for the draft that this will be done Thursday at 9:30 p.m. Spanish peninsular time on the Twitch channel of the Basque creator.
Captains and tournament participants
captains
Auronplay

TheGrefg

JuanSGuarnizo

Ibai
Participants
luzu

siro lopez

nimo

suzyroxx

Amph

Sergio Ferra

Karchez

Ander

Polispol

rioboo

Zeling

selis13

Sekiam

Future

Komanche

sell

Jagged

Duck

maylen

elisawaves

Carol

Ollie Gamerz

bijin

barbe

manute

Roberto Ceín

Abby

AkaLeina

Focus

Shadowune

Knecro

Rivers

Viruzz

Ari Gameplays

Carmen Sandwich

pausenpai

BlackEspañolito

illojuan

Spreen

Th3Antonio

girl

sugussusana

LazyPopa

BarcaGamer

Axozer

pandarina

edurne
In addition to this list, we are sure that there will be a special surprise or an unexpected appearance. Several names have been left out and it is possible that they appear at the last minute, as DJMaRiiO did on his day at the event that took place in the Basque Country and where he tried League of Legends for the first time.
Important dates of the event
January 5: Draft (21:30 Spanish peninsular time)
January 6 and 7: the sixth edition of the Ibainéfico
As far as the schedule is concerned, nothing has been confirmed, but we understand that they will adjust to the time difference with Latin America, so 2:00 p.m. could be a reference time to start with these live shows and end in the middle of the afternoon or at night.
event tests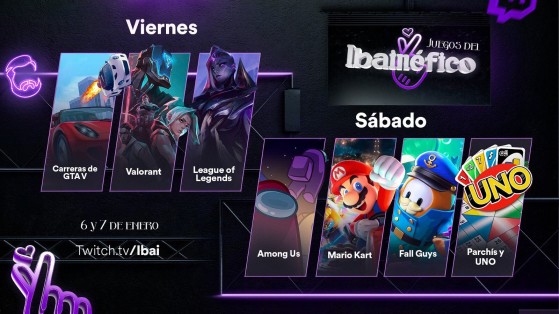 Friday January 6
GTA V Racing

Valorant

League of Legends
Saturday January 7
among us

Mario Kart

Fall Guys

Ludo and UNO