After slamming a halt to all Chapter 3 activities, Fortnite got back into player favor with a great early season in Chapter 4 of the battle royale. Three months after their huge triumph, Epic Games is ready for the next step and only one question remains: When does the Fortnite season end?
When does the Fortnite season end?
Fast answer: on March 8, 2023. This Wednesday the first season of Chapter 4 of Fortniteso all the activities of the battle pass, the skins and the challenges related to the encrypted missions will disappear.
Unlike other times, Season 1 of Chapter 4 will not have a final event or anything like thatwe will simply enter the new proposal cyberpunkleaving behind the dynamics of the middle ages of The Witcher.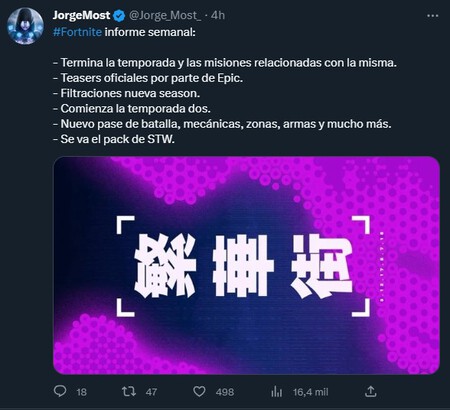 So far there is no official announcement from Epic Games about Season 2, but the leaks have already begun, highlighting the appearance of Eren Yeager from Attack on Titan as one of the skins of the new battle pass
When does the new season of Fortnite start?
Taking into account the above, the new battle pass Fortnite will start on March 9after the maintenance period for update 24.0.
These are the schedules for the update next update of Fortnite in Mexico and Latin America:
Mexico: 02:00 a.m.
Colombia: 03:00 a.m.
Peru: 03:00 a.m.
Chile: 05:00 a.m.
Argentina: 05:00 a.m.
Spain: 09:00 a.m.