The Santander Bankin addition to being one of the most important financial entities in Spain, it has been betting on esportsspecifically since 2018 in which it began to sponsor different competitions.
Now Santander wants to have a more active role in the sector and a few minutes ago he presented at CABAL Esports Productions the Santander Warmup Arena, a new platform to organize esports tournaments for a new generation of players who want to forge a future as professionals in different video games.
The presentation has been carried out by Maya Pixelskayain addition to having well-known figures in different video games such as Caramelo (Rainbow Six: Siege), Augustin51 (Fortnite), Winch (FIFA 23) and Rosdri (Rocket League) who will be the ambassadors of this new project that will be carried out via CTKthe new esports company specialized in organizing tournaments that was born thanks to the union between Atresmedia and CABAL esports.
HI EVERYONE! 🙌🙌

Do you want to join the community of fans of esports and amateur competitions?

TODAY at 19:00 don't miss our live presentation. We will have many gifts for those who come!

📺 https://t.co/KEwqsuJIzi pic.twitter.com/Y3y726InK3 Santander Warmup Arena (@warmup_arena) February 2, 2023
Santander WARMUP Arena, a new place to compete in esports
Santander WARMUP Arena is a platform that, according to its creators, It is designed for the communityso that players have a meeting point and have fun enjoying their favorite video games.
The players enter the Santander WARMUP Arena they will have everything they could want in a platform of this typeweekly tournaments of all kinds of video games, special tournaments, face-to-face tournaments, events of all kinds, activities and a lot of emphasis on building a community with all the players to become the meeting point for amateur competitions in Spain, also having their Discord oficial, the popular application that has become the meeting point for many communities and that will also serve as a means of contact between the Santander WARMUP Arena players and also between the creators of the platform to collect feedback and improve the community.
The incentive of the prizes will also be present since 60,000 will be distributed annually in prizes between the different tournaments in addition to other special gifts just for registering (gifts that will be related to the games they participate in and reserved for the first 1000 participants) and, most importantly, at no cost of any kind to players since the only thing that players need to be part of the community of esports lovers is to register through this link. In addition, members of the community who are Santander customers are going to have some extra advantages such as more rewards, exclusive tournaments or raffles to attend video game events for free.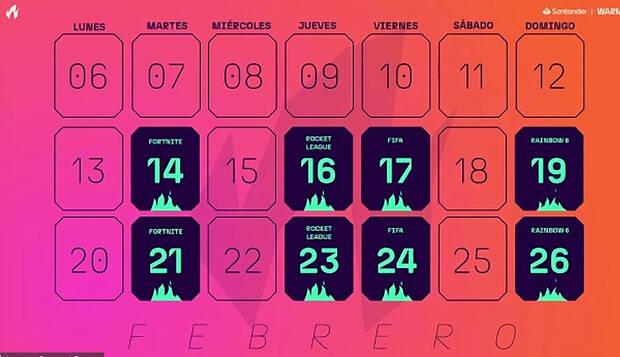 As for video games, first of all we can find tournaments, activities and events related to FIFA 23, Rocket League, Fortnite and Rainbow Six Siege, although the incorporation of new titles in the future is already planned. In addition, the weekly tournaments will be distributed as follows: Tuesday of FortniteThursday of Rocket LeagueFriday of FIFA 23 and Sunday of rainbow six siege.